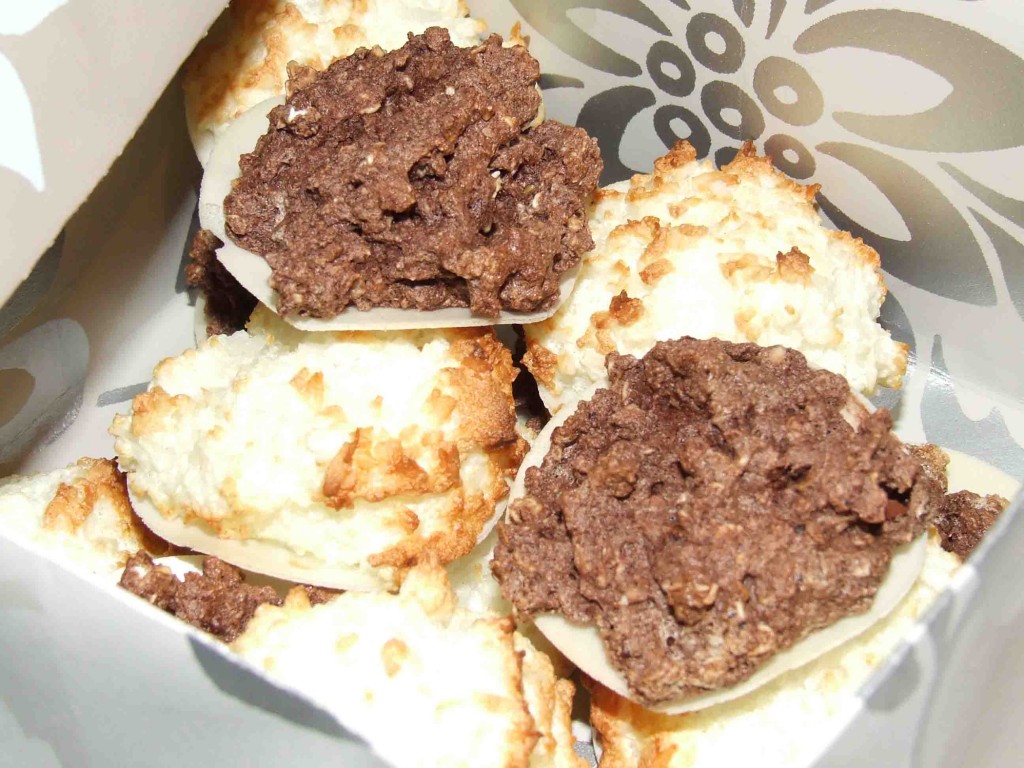 Are you staying in this New Year – need a super quick treat, NOW? Try these….
No Fat, No sugar Macaroons – two flavours in one go.
Makes 12pcs (on 50mm round wafers)
Prep time: 5min
Bake time: 6-8min (200Celsius)
I love that I can have several flavours in one batch (no need to decide what to make),
this time I made Cocoa/ Oats and Rum/Coconut but feel free to adjust flavouring based on your taste; maybe you prefer Cinnamon/ Oats?
The recipe below uses my preferred quantities for these different ultra fast mini treats. Wondering why it makes only 12pcs? I try not to make too large amounts of treats as I – like most people, am inclined to finish my plate – always…
Main base mixture:
2 large egg whites (whipped stiff)
Pinch salt

3 micro scoops of 80% Stevia powder

dissolved in

2 table spoons hot water
Note: getting the sweetness to the desired level is a matter of trial and error, the best thing is to start with a smaller amount of whatever Stevia you have on hand, it can be ready-use, liquid or tabs (need to be dissolved too), adding more is easier than diluting – you could end up with a huge amount of treat -Don't have any Stevia yet? – you can always use normal sweetener products until you are set up.
>>>>>Divide main egg white mix into two bowls.
Cocoa/ Oats flavour =>> stir in:
40g breakfast oats
1 table spoon unsweetened Cocoa powder
Couple of drops of Vanilla flavouring – optional
Rum/Coconut flavour =>> stir in:
50g Desiccated Coconut "unsweetened" => you want to keep it sugar free…
Couple of drops of Rum flavouring (I use Dr Oetker b)
Have your baking tray with baking paper and wafers ready (I use Kuechle "Back Oblaten"- make them crispy outside and soft inside). Place a tablespoonful of batter mix onto each wafer – or directly onto your non stick tray liner if you don't have wafers.
Bake for 6-8 minutes, until edges are golden brown.
My oven likes it this way, bake-turn-bake – sometimes it's helpful to turn the tray round halfway through the baking process to get them evenly golden brow.
Cool completely – this goes really quickly when they are on a cooling rack.
There you go all done – quick and easy.
And NOW –it's time to pinch one before the family discovers them (in my case my fussy eater husband – he love these – shame he likes both flavours – can't keep any for myself then L
And because I like to know what I eat (since this year) here's the calorie count:
6pcs Oat/ Cocoa: approx. 29 kcals/ pcs
6pcs Rum/ Coconut: approx. 46.5 kcals/ pcs
Happy New Year – toast to a treat-full new year with my Stevia-sweet blog!
MK xx