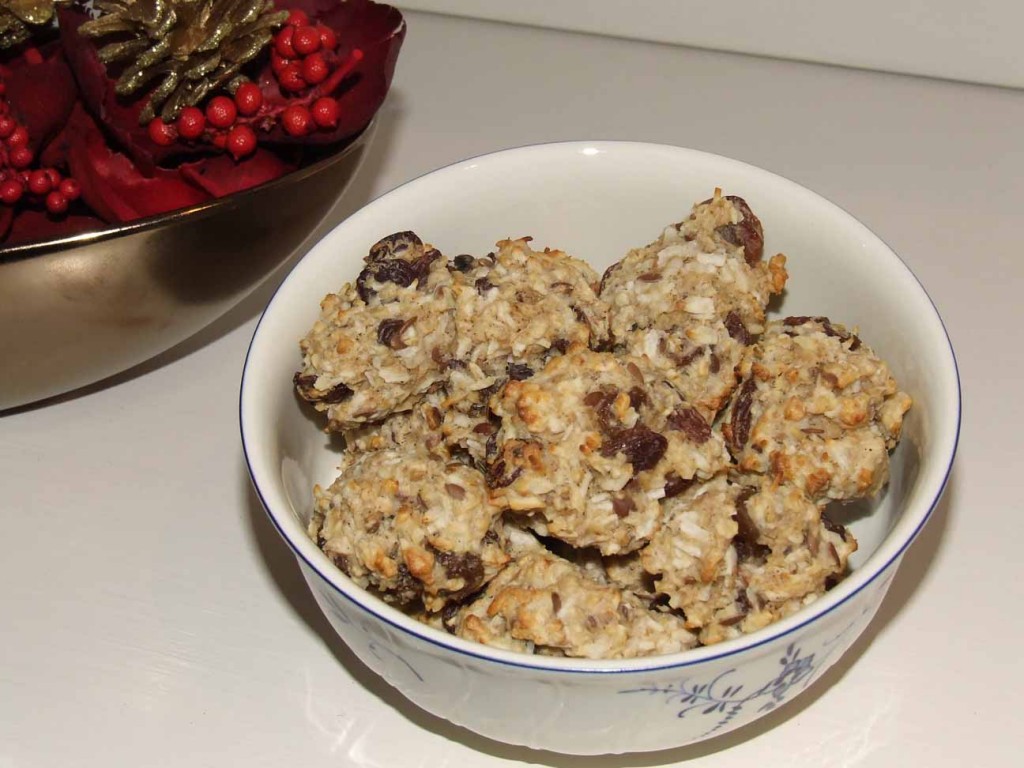 Great healthy biscuits you can make for when visitors turn up on short notice.
This is not a newly invented recipe; my family has used it for years, they remind me of my childhood.
I adapted the original composition that my mother brought home from the kindergarten she works at. The cooking lady, Mrs Meier, had made them with the kids there and everyone loved them – because the bites did not have a name they are just called "Mrs Meier biscuits"
The great thing was that we were able to make them our selves (usually on Sundays – the shops were never open, so we had to make our own sweets) because of the easy measuring units: Cups – (I grew up in Germany where we do not normally use cup measured recipes) I used insist on using my favourite cup with the flowers on, -tipping and –pouring, stirring – and the best thing: tasting… Yum yum! Children love tasting – since it is really just a muesli mix, eating the unbaked mass is no health hazard. I also loved when they turned out a little darker – having a thing for singed raisins – I used to pick them off the biscuits.
They are so easy to make with your children that they can really take charge when baking. It's such a great experience to turn out your very own treats without any help and receiving all the praise for great tasting sweeties. – Another great thing is that you can use any cup/ glass you have at hand – depending how many you want to make just choose a smaller or bigger one of your drinking cups.
Originally, it used a couple of spoons of honey but as that is sugary too, I replaced that with Stevia-sweet 90%.
I often half the recipe after putting the basic ingredient together to make a raisin free option for my husband – he get's chocolate drops instead. If you don't like coconut – just replace it with more oats.

The recipe has everything a healthy snack needs – oats to keep you full and satisfied – raisins for sweet treating – sesame and linseed for good oils and vitamins and coconut for subtle sweetness.
They make a great take away breakfast when travelling or on the run.
Makes approx 30 pieces formed with a tea spoon
Prep time: 5min
Soak time: 20-30min
Baking time: 15-20min in 180 degree Celsius preheated oven
You need:
2cups – Oats
1cup – Desiccated Coconut unsweetened
1cup – Raisins (you can use less if you want to save more calories)
1 tbsp Linseed
1 tbsp Sesame seed
Pinch of salt
2cups – warm Milk – I used skimmed 0.3% fat.

2-3 knife-tips Stevia-sweet 90% powder

dissolved in

1 table spoons hot water
Note: getting the sweetness to the desired level is a matter of trial and error, the best thing is to start with a smaller amount of whatever Stevia you have on hand, it can be ready-use, liquid or tabs (need to be dissolved too), adding more is easier than diluting – you could end up with a huge amount of treat -Don't have any Stevia yet? – you can always use normal sweetener products until you are set up.
Start by putting all dry ingredients together and mix.
Add the Stevia-sweet 90% into the warmed up milk, make sure its dissolved ok and add into dry ingredients.
Stir until everything is combined, check that sweetness is ok for your liking – if not just dissolve another portion of Stevia in a table spoon of hot water and add.
Leave mix to sit so that all the ingredients can soak up all the milk.
Get the baking tray ready with a liner sheet and make small drops with a teaspoon until the mix is used up.
Bake in a preheated oven for 15-20min – maybe turn the tray around half way through the baking time to get the bites an even, golden brown.
Leave to cool on a cooling grid and then enjoy. They keep in a tin for around a week. So you can take some to work over the next few days.
Here's the calorie count:
1 Bite: approx. 40 kcals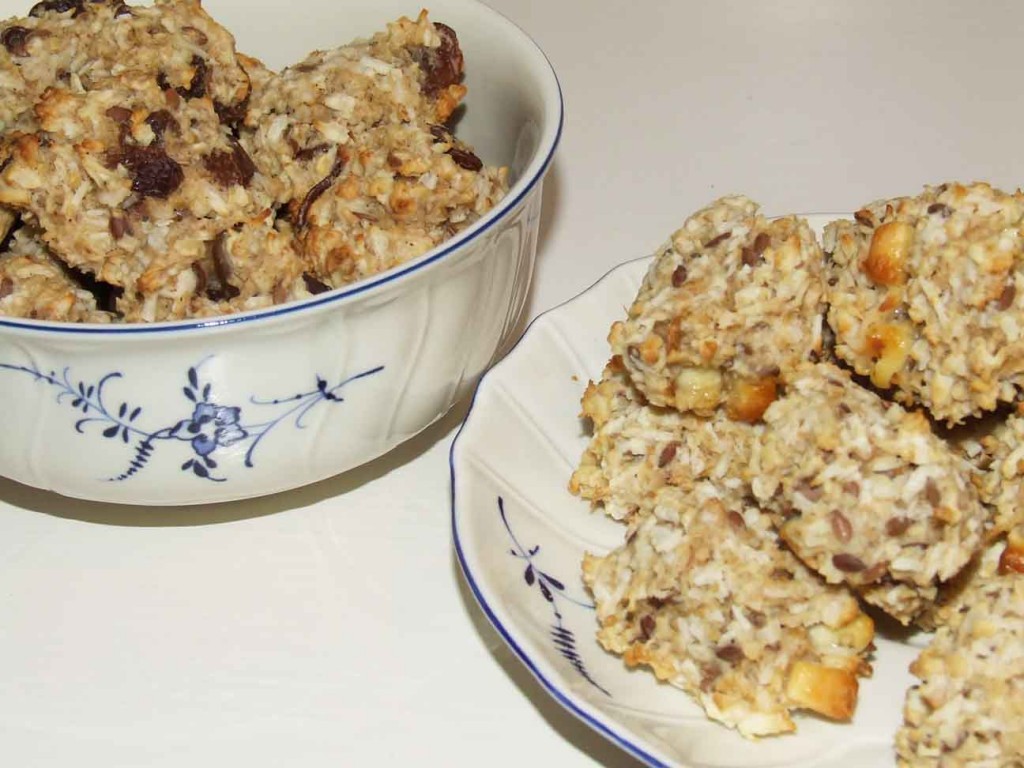 Guten Appetit!
Do you have a recipe that is your families favourite but it need de-sugaring? Let me know and I will see if I can help you make it with Stevia without losing the essence of what you love about it!
MK xx