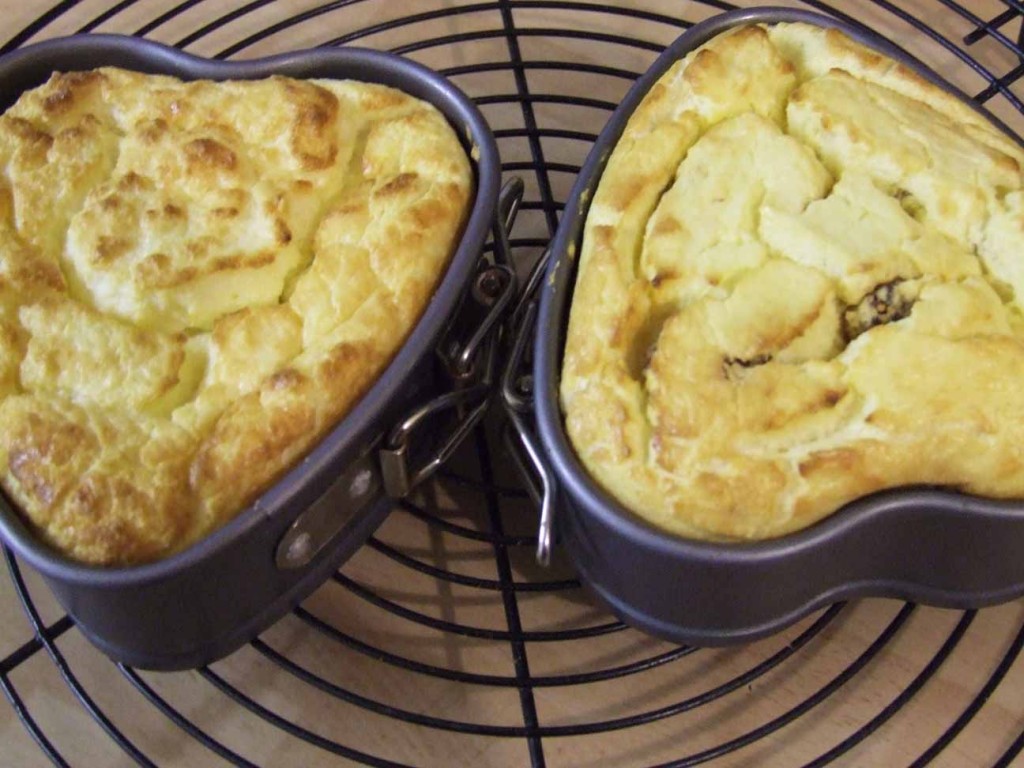 Awesome! This cheesecake recipe saves you calories without compromising the classic flavour.
Now, as you can see – I am not an expert in avoiding a cracking cheese cake. Mine usually crack and that's ok with me – I am not entering a cheese cake beauty contest – I just want to eat it.
I know there is a lot of info out there to help you make the perfect cheese cake, so help is available if you don't like the rustic home-made look. You can always cover the cracks up by decorating the well cooled cake with fresh fruit – adding another dimension.
What I like best about my cheese cake is that I know that it does not contain any nasty ingredients that could jeopardise my diet goals. As you already know from my Super light dark Cocoa/ Chocolate mousse post, I don't want any unhealthy fats in my food.
So I stripped an already lower calorie no-base cheese cake recipe, where you already save on all the added fat and sugar by excluding the fatty biscuit crust. I use Quark in my recipe – it is great for replacing butter in any recipe – it only has 0.2% fat and 12g protein per 100g so it ticks all the boxes in terms of diet friendliness.
The great thing is, it still tastes just like cheese cake and has a great light fluffy texture without the calories from fat and sugar.
It is delicious warm or cold; even after a couple of days – if you can keep your hands off for that long.
As you know from the Oat bites, I am a fan of halving the recipe after putting the basic ingredients together to make a dried fruit free option for my husband – this time he got a plain version instead.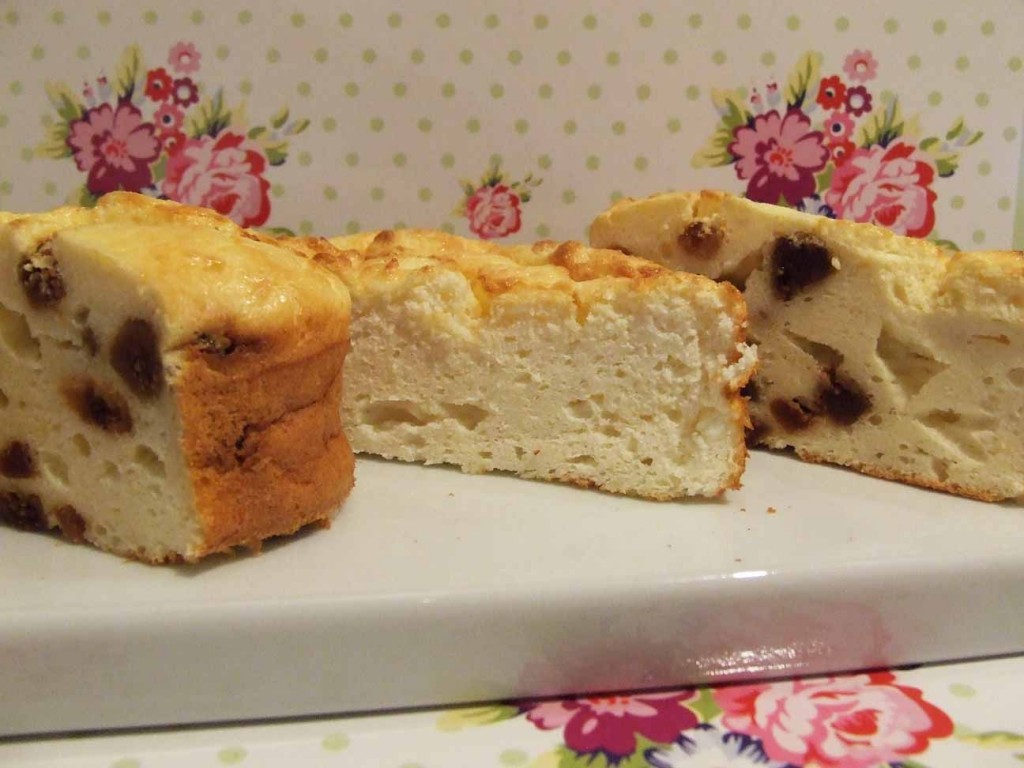 I did not have any raisins left so I used dried figs in the recipe below, you could use any dried fruit you have to hand, or even chopped chocolate – as you have guessed I would use the 100% version to avoid the sugar. Maybe I'll try a cocoa version next time.
If you want to add a bit more standing power to you cake, you can add in Vanilla Pudding powder – I use the one from Ruf. – but since you may not have any at hand I did the samples in the image without this and it works fine – leaving it out makes it a little lighter.
Makes a 9 inch/ 23cm round cake
Prep time: 10min
Baking time: approx. 50min in 170 degree Celsius preheated oven

You need:
150g Semolina
4 medium Eggs (separated)
1000g Quark
juice of one small Lemon
1/2cup – Raisins or chopped dried fruit (you can use less if you want to save more calories)
1 teesp Backing powder
Vanilla flavouring to taste

3-5 knife-tips Stevia-sweet 90% powder

dissolved in

1 table spoons hot water
Note: getting the sweetness to the desired level is a matter of trial and error, the best thing is to start with a smaller amount of whatever Stevia you have on hand, it can be ready-use, liquid or tabs (need to be dissolved too), adding more is easier than diluting – you could end up with a huge amount of treat -Don't have any Stevia yet? – you can always use normal sweetener products until you are set up.
Instructions:
Start by beating the egg whites until they form soft peaks. (I always do this first when my beaters are still clean, giving me the best chance to get the egg white stiff)
Put the egg yolks and the Quark in a big bowl and mix on high setting until creamy.
Dissolve the Stevia-sweet 90% in the hot water and mix it with the lemon juice, make sure it is dissolved ok and add into Quark egg yolk mix. Add any favouring you might want to use now.
Combine the Semolina and the baking powder – add into the Quark cream – mix well.
Next fold the egg whites into the mix taking care not to beat out the air, check that sweetness is ok for your liking – if necessary, add some more.
Pour the mixture into a well greased baking dish – apparently if you run a knife through the batter in an "S" shape it helps get rid of the air bubbles that are one reason you get cracking.
Bake for 40-50 minutes, keeping an eye on it to ensure the top and sides don't burn. Turn cake during baking to get an even gold colour. If the cake starts to go brown on the top too early in the cooking process, reduce the oven temperature slightly. To check if the cake is done I touch the centre looking if it feels like the underneath is done. I also check with a knitting needle just in case, if it's clean after poking in and pulling out, it's cooked through.
Remove from the oven set aside to cool before serving.
Any leftovers keep well in an airtight container in the fridge allowing you to enjoy more later on.
Here's the calorie count based on 12pcs:
1pcs Plain: approx. 123.5 kcals
1pcs with Raisins: approx. 141.58 kcals
Now get cracking making your own cheese cake that is all that is cracked up to be.
Why not send me images of your cracking cheese cake?
MK xx