Great company for raw vegetable snacks, drown them in this flavoursome dip.
Here is part two of the savoury approach to using stevia to add sweetness to your food.
This one is nearly as quick as the spicy ketchup; you only need to put the quartered onions and apples under the grill for a few minutes whilst you get the raw vegies cut and sliced.
Makes a small bowl
Prep time: 5min
Grill time: 5-10min
You need:
1-2 apples with or without skin (100-200g)
2 onions (200g) (I prefer red onions as they are slightly sweeter)
50g Tomato Puree double concentrate (no added salt)
3 teesp. Lemon Juice (fresh or from the bottle)

2-4 knife-tips Stevia-sweet 90% powder

dissolved in 

1 table spoons hot water

50ml hot water (approximate – use more if consistency is not as required)
¼ teesp. Black pepper
½ teesp. Thyme
½ teesp. Rosemary
Note: getting the sweetness to the desired level is a matter of trial and error, the best thing is to start with a smaller amount of whatever Stevia you have on hand, it can be ready-use, liquid or tabs (need to be dissolved too), adding more is easier than diluting – you could end up with a huge amount of treat -Don't have any Stevia yet? – you can always use normal sweetener products until you are set up.
Instructions:
Quarter the onions and the apples and place on a tray, put under the pre-heated grill in the oven for 5-10min till they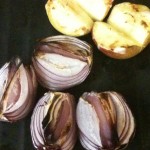 are roasted and have a good colour from caramelising.
Next blend the roasted ingredients in a food processor or blender till they are creamy.
Add the herbs and ground black pepper and stevia-sweet, mix once more.
Dip in immediately or put in a screw glass and keep in the fridge for a few days.
Here's the calorie count based on 250ml condiment:
Total recipe approx. 240 kcals
Get ready, hold your carrot sticks steady, go and dip, dip, dip.
What are your favourite dips and sauces you can't live without?
MK xx