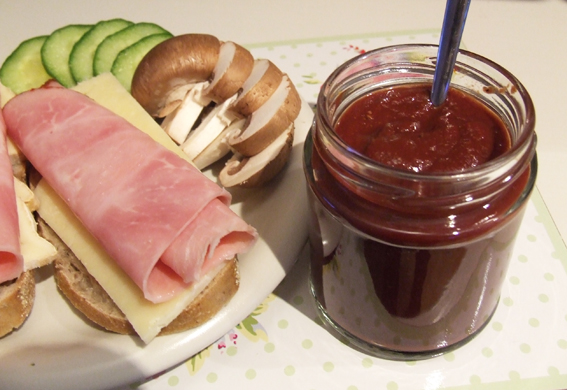 Savoury saviour for any condiment lover – no cooking involved – delicious sweet tangy flavour.
Do you love adding condiments like ketchup and chutneys to your meals to spice things up?
Are you convinced you have to cut back on this treat because you know that the food manufacturers add heaps of sugar and salt to these indulgent seasonings and the health advice is to cut back on salt and sugar? Are you on a mission to get healthy or lose weight this year and feel all you are allowed to eat tastes bland and you are missing out on all what made eating enjoyable for you?
Stop there! You don't have to miss out at all. I am in love with sauces and dips and wouldn't miss them for the world, not even for losing a pound or two. Let me show you a couple of condiment recipes I use that are quick, easy and full of the flavour you expect of commercial yummy sauces.
This sugar free spicy ketchup is great as it does not involve any cooking; you just need a well-stocked spice cupboard and the base ingredient – tomato puree concentrate.
I use this delicious sugar free ketchup sauce which is stevia-sweet sweetened warm or cold with most of my meals – apart from breakfast where I prefer porridge in various flavours.
It's great for dipping raw vegetables, or for spreading on sandwiches to add an extra satisfying sweet touch, have it with homemade chips or on your meat. It can also jazz up you stir fries, and when the BBQ season is finally here, use it to make sticky ribs or marinade meat. I am sure you can think of many more ways to use this wonder sauce to enhance you eating experience.
If you prefer fewer spices, use the base ingredients only to make plain ketchup sauce instead.
Makes 250ml glass
Prep time: 5min

You need:
Base:
100g Tomato Puree double concentrate (no added salt)
5 teesp. Lemon Juice (fresh or from the bottle)

2-4 knife-tips Stevia-sweet 90% powder

50ml hot water (approximate – use more if consistency is not as required)
Spices I use:
50ml dark balsamic vinegar
½ teesp. Cumin seeds
½ teesp. Caraway seeds
½ teesp. Mild curry powder
½ teesp. Black pepper
½ teesp. Thyme
½ teesp. Rosemary
3-4 drops  Tabasco
<Note: getting the sweetness to the desired level is a matter of trial and error, the best thing is to start with a smaller amount of whatever Stevia you have on hand, it can be ready-use, liquid or tabs (need to be dissolved too), adding more is easier than diluting – you could end up with a huge amount of treat -Don't have any Stevia yet? – you can always use normal sweetener products until you are set up.
Instructions:
Combine the base ingredients stir till well combined.
Add the seeds and black pepper, Thyme and Rosemary into a mortar and grind with pestle till everything is broken down finely releasing all the flavours. Add all these and the other spices stir once more and voila- ready to eat.
Serve immediately or put in a screw glass and keep in the fridge.
Here's the calorie count based on 250ml condiment:
Total 250ml approx. 132 kcals
100ml approx. 52.8 kcals
Let the others try to ketchup with the weight loss achievements you will have while enjoying delicious meals without missing out on your toppings.
Is there anything else you think you will have to abstain from to achieve weight loss goals?
MK xx