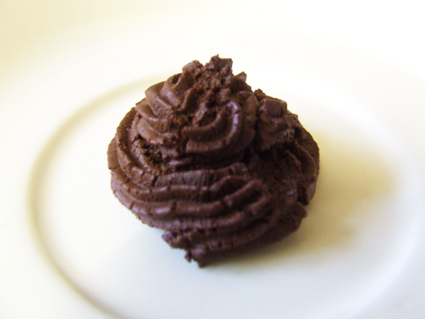 Creamy, melting, divine, luxury dark chocolate icing for every occasion. Once you've tried this, you'll ask how you lived without it.
Here are the instructions so you can finish that Valentines goody for your loved one.
Makes 120g (small breakfast bowl)
Prep time: 2min
Cook time: 5min

You need:
60g 100% Chocolate (I use Baker's Unsweetened Chocolate)
1 teesp. Instant coffee
60ml Water  (can be replaced with 30ml water & 30ml amaretto mix for a different flavour)

2-4 knife-tips Stevia-sweet 90% powder
Note: getting the sweetness to the desired level is a matter of trial and error, the best thing is to start with a smaller amount of whatever Stevia you have on hand, it can be ready-use, liquid or tabs (need to be dissolved too), adding more is easier than diluting – you could end up with a huge amount of treat -Don't have any Stevia yet? – you can always use normal sweetener products until you are set up.

Instructions:
Start by roughly chopping the chocolate to aid quick melting. Place chocolate, water and Stevia-sweet 90% powder into a metal bowl and stand over a water bath on low temperature. Melt/ dissolve ingredients fully.
Take off the heat, place bowl with dissolved chocolate mass into an ice bath (another bowl with cold water and ice cubes or soft ice packs). Immediately whisk with electric mixer to a smooth thick creamy slightly airy mass. Remove from the ice bath. Voila, all done and ready to use.
You can now use it to fill a layer cake and cover the outside all over with a spatula. If you need it to set quickly, place it in the freezer for 20-30min.
If you want a more refined finish, fill the mousse mass into a piping bag and leave to cool a little longer. It's important to keep trying to pipe on a plate to catch the right time during the setting period, if you pipe too early, the mass will run off. If you wait too long it will be rock solid. (You can add any practice piping back into the back.)
You can also use this recipe as a heavenly rich chocolate mousse dessert.
Here's the calorie count.
Whole batch of icing approx. 210kcals
Stop any bystanders – the right of licking the spoon is reserved for the creator!
Now you've discovered the secret of this divine melting icing mousse recipe, just enjoy using it to your advantage by adapting it to suit all occasions – no fat laden icings ever again.
MK xx