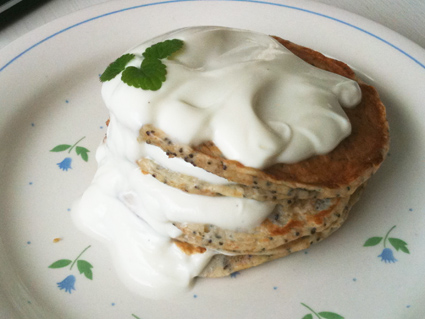 Luxurious grown up way to celebrate Pancake Day this year.
I love pancakes – they can be anything you like; from quick emergency food when time is short, to a luxury sumptuous meal or an all time favourite desert.
This particular combination of lemon and poppy seeds is very rich. The lemon adds a bit of zing taking the heaviness of the added butter that aids the ticker texture and the poppy seeds add their own aroma and a little crunchiness.
Makes: 8 small pancakes
Prep time: 5min
Cook time: 20min

For the batter you need:
140g/ 1 cup whole wheat flour
½ tsp. baking powder
27g/ 1/6 cup poppy seeds
2 Lemons squeezed / 7 tbsp. full juice
250g/ 1 cup butter milk (can use normal milk)
1 tbsp./ 30g butter light melted
3 medium Eggs
3-5 knife-tips Stevia-sweet 90% powder

/or 5-8 drops of Stevia-sweet liquid
Note: getting the sweetness to the desired level is a matter of trial and error, the best thing is to start with a smaller amount of whatever Stevia you have on hand, it can be ready-use, liquid or tabs (need to be dissolved too), adding more is easier than diluting – you could end up with a huge amount of treat -Don't have any Stevia yet? – you can always use normal sweetener products until you are set up.
Instructions:
Combine all wet ingredients – mix till smooth and runny – include the Stevia-sweet at this point – taste to check level of sweetness is as desired.
Add the flour and the baking powder and mix until you achieve a well-combined pouring consistency.
If the mix is too tick in consistency, add a little more milk.

Pre-heat a non stick frying pan until it's piping hot – grease with silicon brush dipped in oil, this way I need less and know that the pan is well coated everywhere.
Pour ( I like to have the batter in a jug for easy pouring) pancake batter in several small blobs at a time into the pan. When top surface is nearly dry flip the pancake and leave until golden brown on other side too.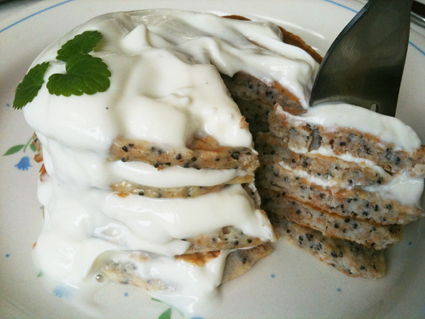 Serve:
I served mine with stevia sweetened zesty lemon yoghurt cream for added freshness – celebrating the newly arrived spring season.
Here's the calorie count.
All pancakes approx. 956.8 kcals/ 1 pcs approx. 110kcals
What will you serve with your luxurious lemon poppy seed pancakes?
MK xx