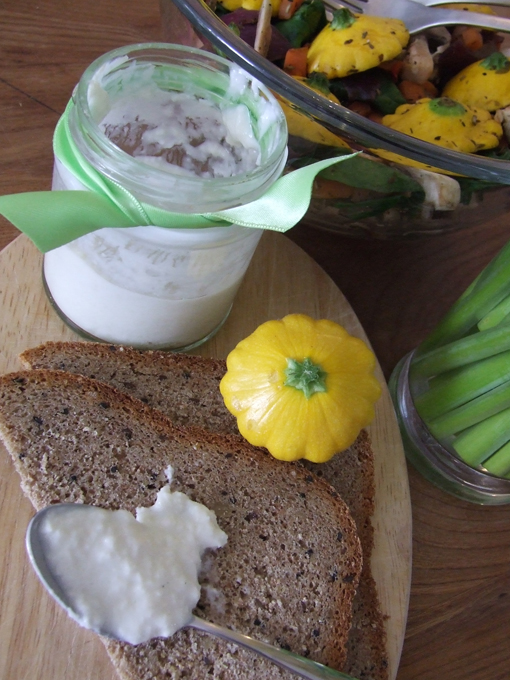 Some like it hot – others do not!
Healthy, devilishly hot, sweet, sugar free, creamy no fat sauce.
This quick and easy sauce is made with just 3 ingredients: fresh horseradish root, fat free yoghurt and Stevia-sweet fluid.
Starting with the deceptive root that keeps it's sharp, biting hot aroma under wraps until you start hand grating it, breaking open the root cells releasing the volatile hot oils – beware – if you thought onions are bad you have not experienced the power the horseradish root – my eyes were streaming, but every tear is worth shedding for this deliciously sweet hot treat. The fresh root is naturally super low in calories but full of healthy vitamins and minerals, it has been used as a traditional healing remedy for centuries.
It has a number of positive effects on the respiratory system, if need your nose clearing – have a bite of the pungent horseradish condiment – it guarantees to instantly clear you sinuses. Did you know that horseradish is even hotter that the popular green Japanese wasabi sauce?
To relish the full flavour of horseradish, it must be fresh; you can get it on the market or even in a good supermarket's fresh food isle. The fresh root is rather big – you may not want to use it all at once – it's best kept in an airtight container in the fridge to keep it from drying out.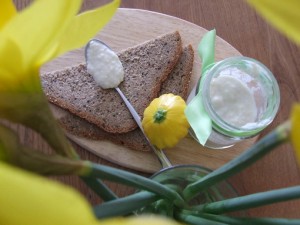 I love to use this horseradish sauce jazz up my sandwiches – adding sliced apple with it takes the edge of it nicely, saving me calories on the additive laden cream cheese. Using it for dipping vegetables, it will work on just about any of them— tried in salad sauces or drizzled on baked potatoes.
Makes 250ml glass
Prep time: 10min
You need:
25g fresh Horseradish root (approx. 1 inch)
160g fat free yoghurt

3-6 drops Stevia-sweet fluid
Note: getting the sweetness to the desired level is a matter of trial and error, the best thing is to start with a smaller amount of whatever Stevia you have on hand, it can be ready-use, liquid or tabs (need to be dissolved too), adding more is easier than diluting – you could end up with a huge amount of treat -Don't have any Stevia yet? – you can always use normal sweetener products until you are set up.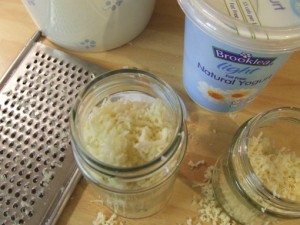 Instructions:
Peel the root.
Now you have two options:
1)    Grate finely by hand, and shed a tear or two. Then fill into a fresh screw glass, add the yoghurt and the stevia-sweet fluid to taste; stir well.
2)    Chop the peeled root roughly, put it in your food processor together with the yoghurt. When processed to creamed consistency, add Stevia-sweet fluid to taste, fill in glass or prepare for freezing.
Serve immediately or keep sealed in a screw glass to retain full flavour store in the fridge for about 3 days or make more and freeze some for later.
Here's the calorie count based on 250ml condiment:
Total 250ml approx. 104 kcals
There are some great health benefits tucked away in this devil root.
Check out more health benefits of the horseradish root on these links.
http://www.liveandfeel.com/medicinalplants/horseradish.html
http://www.brighthub.com/health/alternative-medicine/articles/46753.aspx
http://www.horseradish.org/stats.html
http://health.learninginfo.org/horseradish-sauce.htm
http://caloriecount.about.com/calories-whole-foods-horseradish-root-i118236
Now what are you waiting for?
Get steamingly hot with your sandwich dressed in low calorie horseradish sauce.
MK xx