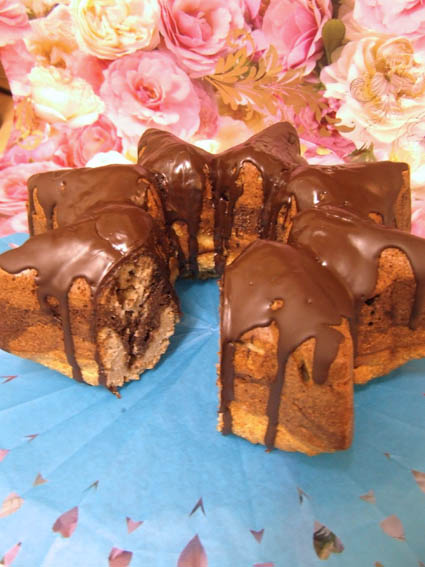 Classic Marble Bundt cake with a sweet nutty marzipan like flavour from the flour and a moist chewy texture.
You are right – I did say I wouldn't use ingredients that aren't widely available but I could not keep this delicious alternative version of the classic black and white Marble – Bundt cake to myself.
I found the chestnut flour at the health food store when I was looking to top up my pantry stocks, I couldn't resist taking a pack home even though I had no idea what I would use it for.
Its been sitting in the cupboard for a week while I searched the net for inspiration and tips on using the novelty ingredient.
I finally decided to try using it in a tried and tested classic marble cake recipe to share with all the family.
When I started gathering the ingredients I was still apprehensive about using the flour – it smelled nutty and sweet, I dipped my finger in and tasted it – nice aromatic sweet nutty flavour you can't go wrong with these kind of aromas can you?
Marble cakes are great, the flavours of chocolate and vanilla are universally liked, and since it isn't a delicate structure it transports very well, sliced into many portions it feeds a whole crowd as a birthday office treat.
I was surprised the cake turned out to be moist, dense with marzipan like texture.
The nutty flavour also reminded me of one of my favourite sweets – marzipan.
The most common finish for marble cake would have been a dusting of icing sugar – but since we are baking sugar free – the other classic finishing touch that we can replicate is a coating of melted super dark stevia-sweetened chocolate adding a little luxury.
Sure it would also be delicious on its own, but who can resist a drizzle of super dark stevia-sweetened chocolate. My husband, a cream lover, requested his serving with a dollop of syphoned cream.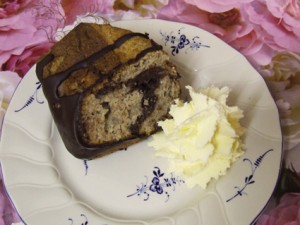 Another great thing about a chocolate covering is – if the cake refused to come out of the pan and broke a little – just put it back together and the covering will cover up the little mishap. Bundt cake tins can be a little tricky sometimes – they really need to be well greased and dusted out with flour to allow easy removal of the finished cake.
TIP: You can use the recipe to make any flavour cake – like plain vanilla Bundt cake with or without raisins or maybe a lemon coconut version for a fresher version.  – If you don't have any chestnut flour in the house – don't worry just use normal baking flour.
I have frozen some slices, layered with cling film in a freezer safe box.  This way they are easily removed one at a time as required – I deforested by room temperature as well as with the microwave; both methods work well.
Makes: 1 large Kugelhopf/ Bundt cake mould
Prep time: 15min
Baking time: 50min in 180 degree Celsius preheated oven
For the batter you need:
250g chestnut flour
250g whole meal flour
1 teesp. Baking powder
5 medium Eggs
1 teesp. Vanilla extract
4 tablsp. Rum
250g Quark (or another similar thick creamy milk product)
300ml skimmed milk 0.3%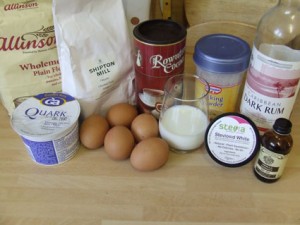 For the marbling:
30g Cocoa unsweetened
50ml skimmed milk 0.3%
Note: getting the sweetness to the desired level is a matter of trial and error, the best thing is to start with a smaller amount of whatever Stevia you have on hand, it can be ready-use, liquid or tabs (need to be dissolved too), adding more is easier than diluting – you could end up with a huge amount of treat -Don't have any Stevia yet? – you can always use normal sweetener products until you are set up.
The chocolate covering:
Instructions:
Combine all wet ingredients – mix till smooth and creamy – include the Stevia-sweet at this point.
Add the both flours and the backing powder and mix till thick and pasty. If the mix is too dry add a little more milk.
Remove 1/3 of the batter mix into another bowl – add the Cocoa powder and the additional milk.
Mix till the batter becomes evenly chocolate coloured.

Spoon some the plain batter into a greased/ dusted Bundt cake tin. Now spoon dollops of chocolate flavoured batter as a second layer – do not spread this out. Pat the rest of the plain batter on top and now it's marbling time. Dive into the filled cake pan with a knitting needle or knife, pull trough the batter for a couple of inches lift out and repeat all the way round till some of the chocolate coloured batter reaches the surface. Now place the pan into in pre-heated oven for approx. 50 min – I know a little fit of patience is required with this cake.
Remove from oven and leave to cool – remove from baking tin.
When fully cooled – melt the chocolate, add Stevia-sweet to taste and drizzle over the cake.
Here's the calorie count.
Whole cake excluding chocolate coating approx. 2728.5 kcals
Let me know if you will go nuts for this cake too – hmmm marzipan flavour?
MK xx