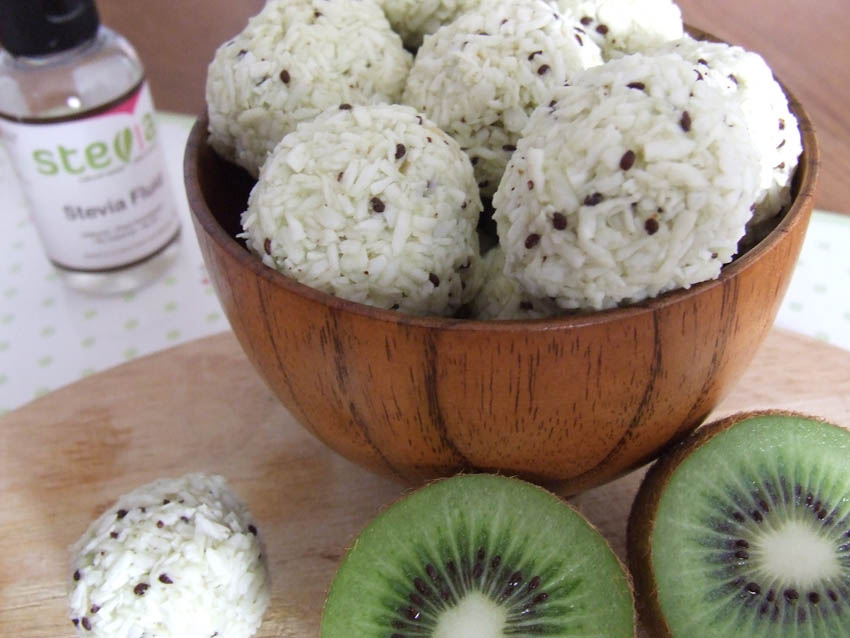 Fast, tasty way to use up your unwanted Kiwi's – make these glamorous, refreshing fruit treats.
5 reasons why you should try this Kiwi recipe:
Kiwis can relieve bloating and aid digestion.
one Kiwi a day supplies enough vitamin C to cover your recommended daily intake.
an average size fruit has one 46 calories.
Kiwis have a low GI and keep you full for longer.
are a great source of soluble fibre, which can help lower cholesterol.
Makes: 12pcs/ mouth sized truffle balls.

Prep time: 5min.
Hand rolling time: 10-15min depending on how quick you are.
Freezing: optional.
You need:
• 2 pcs / 112g ripe Kiwi's
• 88g desiccated Coconut un-sweetened
• 2-4 drops of Stevia-sweet liquid
Note: getting the sweetness to the desired level is a matter of trial and error, the best thing is to start with a smaller amount of whatever Stevia you have on hand, it can be ready-use, liquid or tabs (need to be dissolved too), adding more is easier than diluting – you could end up with a huge amount of treat -Don't have any Stevia yet? – you can always use normal sweetener products until you are set up.
Instructions:
Peal and roughly chop the Kiwi's.
Place in a blender to make Kiwi puree.
Add the desiccated un-sweetened Coconut and the Stevia-sweet liquid to taste.
Mix well until you get a thick, nearly crumbly texture; you may need a little more or less desiccated coconut depending on the consistency of the mixture – it needs to be thick and dry enough to form the truffle shaped balls.
Tip: lightly grease your hands with vegetable oil to protect your skin – the acid of the Kiwi is quite sharp, I found it burning on my skin.
You can place the finished fruit truffles in the fridge or even in the freezer to firm them up a little. I kept mine in the fridge for two days and they were ok.


Here's the calorie count.
One pcs/ truffle approx. 55 kcal's     (bonus: its high in Vitamin C and Fiber.)
I would love to know what kind of summer fruit truffles you are making – share your recipe with us!
MK xx