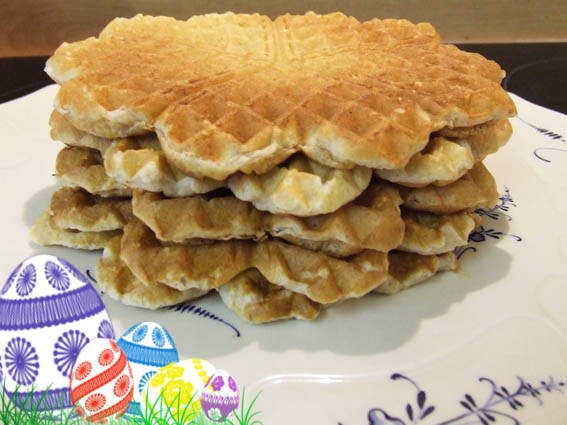 Fluffy, light, crunchy – just the way a waffle should be – bring a bit of Europe to your Easter afternoon tea.
I loved waffles as a child– especially the heart shaped ones. When I was little, we sadly only had a square shaped one at home, square is just not the same – it so grown up and strict. Heart shapes are playful, cute and you can rip them out one by one – so when I set up my own home a heart shaped waffle iron was a must.
Waffles are great Easter celebration treats, they are quickly made and everyone can add their favourite topping – ice cream would be my first choice. I loooooove ice cream. I often make them for Sunday breakfast; it takes me back to a time when things were easy…
Since I like to eat healthy and sugar free, the recipe I use has changed since my childhood. I now make a lighter version using quark instead of butter and stevia-sweet natural sweetener extract instead of sugar – it saves me many calories and allows me to enjoy the waffles just that little bit more- not having to worry about having to work off any excess calories consumed when having nice food makes it twice as nice. And if you like high protein food because it fills you of for longer, check out the nutritional information at the bottom.
Lets get down to the recipe, the ingredients are quite standard so you will probably have them at home most of the time – if you don't have quark or fromage frais, a thick cream yoghurt works too.
Makes: 7 waffles
Prep time: 5-10min
Cook time: approx. 20min depending on your waffle maker
For the batter you need:
150g/ 1 cup whole wheat flour
227g/ 1 cup quark (can use fromage frais it is very similar to quark, just a little more creamy)

1 tsp. baking powder
Vanilla flavouring/ or fresh seeds from the pod
125ml/ 1/2 cup skimmed milk (can use normal milk)
3 medium Eggs
Note: getting the sweetness to the desired level is a matter of trial and error, the best thing is to start with a smaller amount of whatever Stevia you have on hand, it can be ready-use, liquid or tabs (need to be dissolved too), adding more is easier than diluting – you could end up with a huge amount of treat -Don't have any Stevia yet? – you can always use normal sweetener products until you are set up.
Instructions:
Crack eggs into a big mixing bowl, whisk vigorously or with electric mixer until fluffy and creamy. Now combine with wet ingredients (quark, milk, vanilla and stevia)– mix until it has a creamy consistency. – Include the Stevia-sweet at this point – taste to check level of sweetness is as desired.
Add the flour and the baking powder and mix further to achieve a well-combined pouring consistency.
If the mix is too tick in consistency, add a little more milk.
Pre-heat waffle iron– grease lightly with silicon brush dipped in oil, this way I need less and know that the iron is well coated everywhere. – You may not need to re-coat between every waffle – I usually re-coat when the waffle I am removing starts sticking a bit.
Serve:
I served mine with fresh unsweetened cream or with a sprinkle of cinnamon.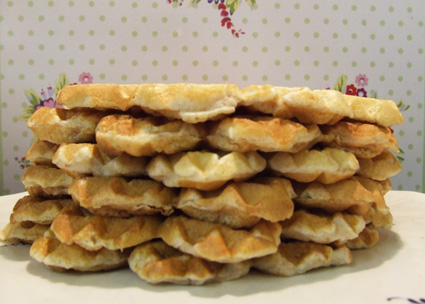 Here's the calorie count.
Whole stack of waffles approx. 933 kcals/ 1 pcs approx. 116kcals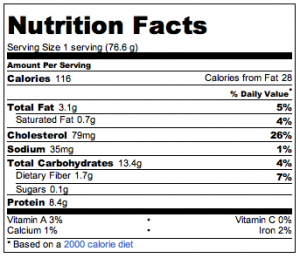 Let me know how these waffles stack up for you, what will you serve this Easter?
MK xx