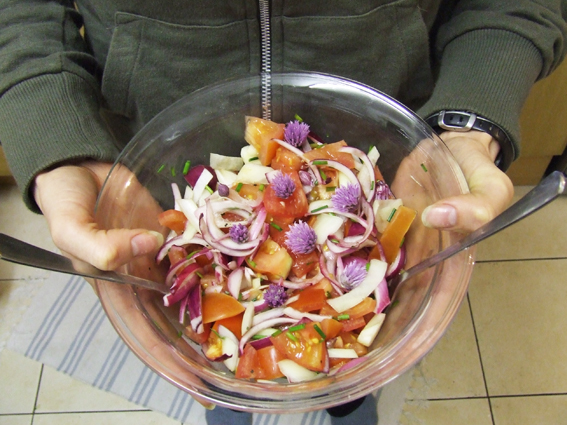 Juicy, light, refreshing summer season salad – decorated with chives flower buds.
Now that the sunny days have arrived, I have found myself longing for juicy fresh cool food such as salads, whereas in winter I cooked all my vegetables to create hot salads I am now happy with the refreshing summer versions.
It is weird how memories of foods are triggered by seasons; the body automatically asks for what suits best in each season – mine requested a juicy tomato salad with no frills.
I remembered that my grandma used to use sugar in the vinaigrette to bring out the sweetnes of the tomato and to level out the acidity of the vinegar.
My version of the tomato salad is dressed with a simple basic cider vinegar, olive oil, crushed black pepper – sweetened with a couple of drops of stevia-sweet fluid.
I must admit I was a little impatient– but I did give the salad a little time to develop the full flavour just the way my grandma used to do it – just 20min will be enough.
I use the spare time to toast some Italian ciabatta bread, it's a delicious accompaniment for tomatoes, I like to mop up the juices in the bottom of the bowl.
In the olden days I would have enhanced the bread with a good dollop of butter, sadly being educated about food nutrition does spoil eating these calorific ingredients without regret.
I am always amazed how versatile stevia is, it really works with all recipes.
My chives from last year in the garden that I had thought to be dead, have started to really go crazy and are growing and flowering with there gorgeous lilac buds, when I remembered that these lovely flours are also edible I decided to add them to my salad. Chives flower buds make a great eye catching edible decoration for any savoury dish, harvest them while you can – they will soon stop flowering.
The great thing is the recipe is so easy; nothing can go wrong!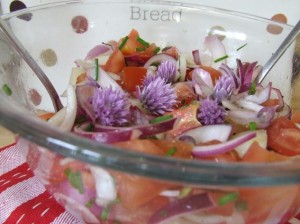 Classic Tomato salad with raw green asparagus
Another version I had in the last few days was tomato salad with raw green asparagus. Yes, raw asparagus! I have started to try some vegetables like asparagus and parsnip that I previously only had cooked in its raw form and found they are delicious.
It is a shame that some times, if we have had a bad experience with a food, we avoid having it for years to come.
My first encounter with asparagus was not a convincing one. In Germany, we have more white asparagus and it is always cooked and served with a white sauce, the one I got served was very stringy and got stuck in my throat. Not a very good start, but I am now converted – just have it raw – or steamed in a "steam parcel" in the oven – works for me – no stringy soggy asparagus for me again!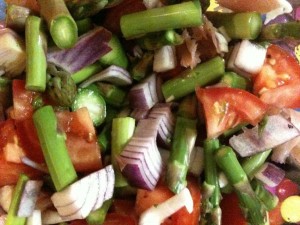 Makes: 4 servings
Prep time: 5-10min
Time to develop full flavour: approx. 20min
For the salad:
500g/ 4-5 medium ripe vine tomatoes
100g/ 1 medium red onion (white works too)
bunch of freshly harvested chives, with flower buds if possible
The dressing/ sauce:
1 tsp. olive oil
crushed black pepper – to taste
4 tbsp. cider vinegar
1 pinch of sea salt
Note: getting the sweetness to the desired level is a matter of trial and error, the best thing is to start with a smaller amount of whatever Stevia you have on hand, it can be ready-use, liquid or tabs (need to be dissolved too), adding more is easier than diluting – you could end up with a huge amount of treat -Don't have any Stevia yet? – you can always use normal sweetener products until you are set up.
Instructions:
Chop tomatoes and slice onions in your preferred way.
Make dressing, combine all ingredients in a cup before adding to the salad, mixing well and letting it rest for 20min to develop full flavour.
Serve:
I served mine with fresh toasted ciabatta bread alongside a BBQ dinner.
Here's the calorie count for the salad only.
One portion of Salad 42.1 kcals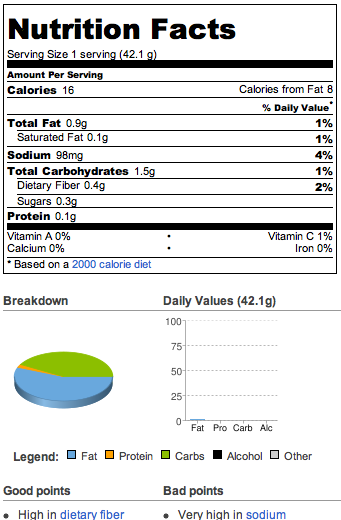 Let me know, have you got a secret ingredient or a special way to make tomato salad?
MK xx