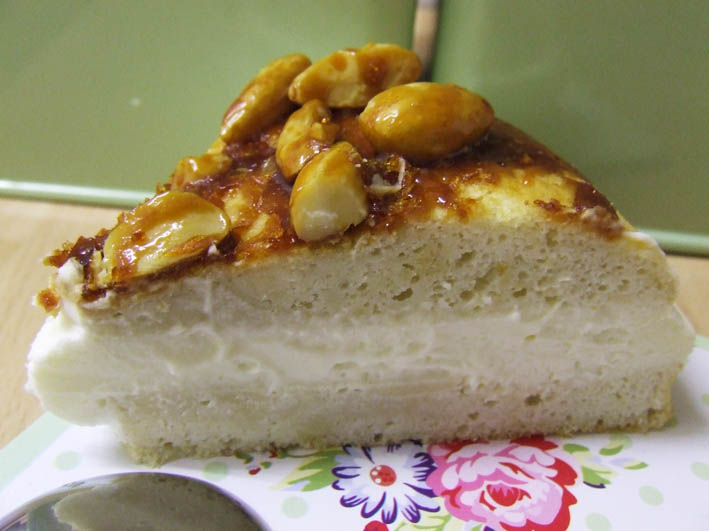 Bienenstich or "Bee sting cake" is a German baked dessert with a topping of caramelised almonds; the base is split and filled with a stiff vanilla custard cream or Buttercream. Mmh, yummy! 
No it doesn't sting
I made this a couple of days ago whilst doing heavy duty DIY on my bathroom, I fancied a sweet and remembered my friend telling me she was making this cake for her birthday party in germany. Uhh – I haven't had one of these in a decade so I though why not make one quickly.
I replaced the traditional yeast cake base with a biscuit sponge base which much quicker to make, no waiting for the dough to rise, it also give it a slightly lighter base which I sweetened with  natural zero calorie stevia sweetener ; this saves some of the empty calories that the sugar would normally add.
For the filling, I used stiff whipped whipping cream  mixed with one 3rd thick vanilla custard pudding which I also sweetened with stevia-sweet.
The only thing I could not make sugar free was the caramelized almond  topping and this is definitely needed to make a real "Bee sting cake", considering that this part of the cake is what has earned it the name Bienenstich Kuchen or Bee sting cake.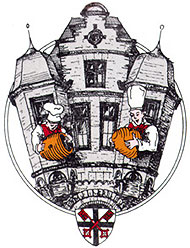 Legend has it that two german towns Andernach and Linz were fighting over a financial dispute.
One day the people of Linz attacked at dawn, two young apprentice bakers who were enjoying honey from the beehives on the town wall heard the noise
and threw the beehives at the invader who got chased off by the angry bees.
To celebrate the victory the baker made the honey, butter, almond glazed cake named Bienenstich.
Here is how it's done, it's very quick, really; whilst the cake base is baking, make the toppings then simply assemble and it's ready to go or leave to set if you can wait that long.
Makes a small 20cm round cake  approx. 8 servings
Prep time: 30 min
Baking time: 15 min
Cooling time: 30min 
Setting time in fridge: 1-2hours
You need:
For the biscuit base
25g Butter
3 medium eggs, separated
70g flour

1-2 knife-tips Stevia-sweet 90% powder

dissolved in 

1 table spoons hot water
Note: getting the sweetness to the desired level is a matter of trial and error, the best thing is to start with a smaller amount of whatever Stevia you have on hand, it can be ready-use, liquid or tabs (need to be dissolved too), adding more is easier than diluting – you could end up with a huge amount of treat -Don't have any Stevia yet? – you can always use normal sweetener products until you are set up.
1 pkt Dr Oetker Vanilla pudding or similar
350ml water or milk (less than normally stated on pudding packet- to make thicker cream)
250ml whipping cream

1-2 knife-tips Stevia-sweet 90% powder

dissolved in 

1 table spoons hot water
For the caramelised almond crust
30 g Butter, unsalted
30g sugar
1 tabl. spoon water
50g almond slices or slivers ( I chopped some skinned almonds as I did not have anything else)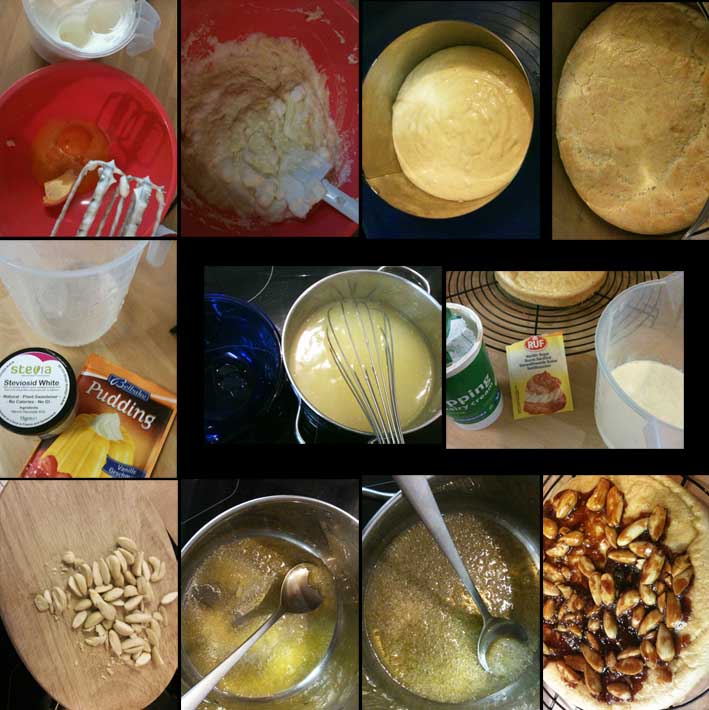 Instructions for base:
Separate eggs carefully.
Start by whipping egg- whites stiff – this way you don't have to wash the whisks in between mixing.
Take  butter and egg- yolks whisk vigorously or with electric mixer until fluffy and creamy. – Include the Stevia-sweet at this point – taste to check level of sweetness is as desired.
Add in the flour and the stiff egg white bit by bit, making sure all is combined well without beating out the air you have whipped into the egg white.
Fill into a small round greased baking pan or ring, approximately 20cm diameter. you wan to have a base that is around 4-5cm high.
Place into a preheated oven for 15min at 200 degree Celsius. The base is ready when it is golden brown. Leave to cool.
 Tip: this is a great base for any filled gateau style cake, I use it all the time, sometimes I add cocoa powder for chocolate sponge cake.
Instructions for vanilla cream filling:
Mix the pudding powder with small part of the cold water/ milk in a cup.
Boil  the water with desired amount of stevia-sweet and whisk in the pudding water mix, ensuring there are no lumps, take pot off the heat.
Fill into another bowl for cooling.
Whip the whipping cream very stiff, be careful not to make it into butter though.
Once the pudding has cooled , spoon bit by bit into the whipped cream, checking that consistency does not become runny – you don't need to use up all the pudding.
Instructions for caramelised almond crust:
Melt butter, sugar and water in a pot, when the sugar starts to dissolve, take off the heat and stir in the almonds. – you can see my caramel topping is very dark, this is because I did not anticipate that the pot keeps hot – continuing the caramelisation even when off the heat.
Spread the topping onto the uncut cake base, leave to cool/ set.
When all components are cooled you are ready for assembly.
Cut the cooled biscuit base in half, spread the thick vanilla cream, replace the lid. If you have time place it in the fridge for a bit to set the pudding cream. Voila, all done.
Here's the calorie count.
If divided into 8 servings, 1 pcs approx. 279 kcals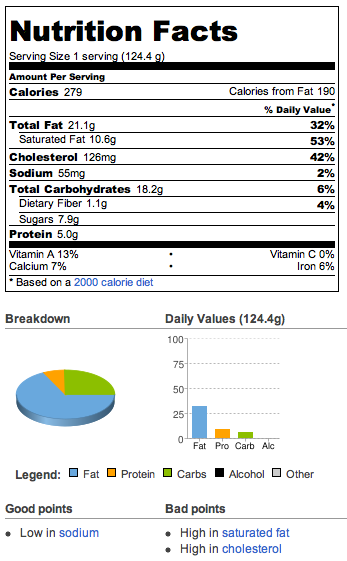 Now enjoy the bee sting cake before it attracts the real bees.
MK xx