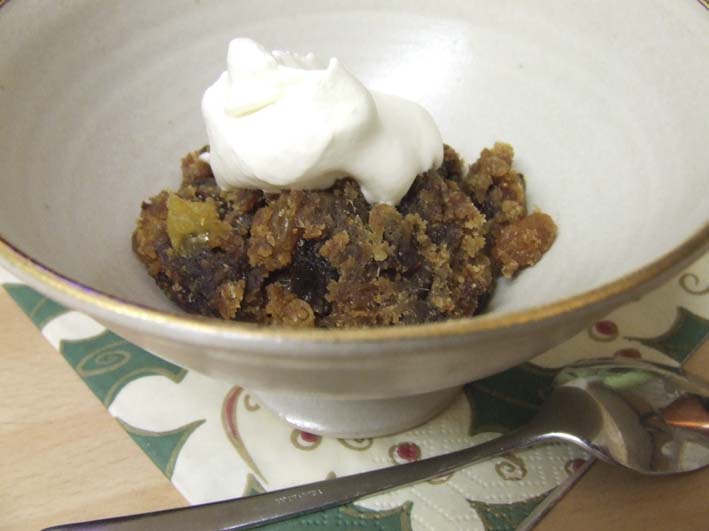 It's not too late, this delicious traditional british Christmas pudding  does not have to be made months in advance, make it last minute.  No ripening needed.
Have you recently established a new way of  healthy natural eating? Maybe you have gone Paleo or you are following a metabolic type specific diet – you don't need to dread the Christmas feasting  and having to restrain yourself or explain to others why you don't want to have this or that.  Just take a little time to prepare a few treats yourself and let others try the delicious treats with you! They won't even know that they are sugar and gluten free. They just tell you how Yum it is.
I don't see why we should break with our clean eating habits that make us feel good for Christmas, setting back all the healing the body has been able to do so far. Just take a minute to remember how bad you felt eating the refined packaged food; do you want to feel like that again, or do you just want to enjoy a delicious body fuelling christmas?
Take control of what goes in your engine, just make the traditional treats yourself with a few tweaks that agree better with our system and enjoy a healthy, pain free Christmas.
I have made a Paleo diet friendly Christmas pudding that has no added sugar and is also gluten free since 8 out of 10 people today are sensitive to gluten.  Want to know more on what and how gluten sensitivity manifests itself, check out this video it's not always a full blown celiac disease. I am avoiding gluten because it triggers an auto immune response in the body that can cause me very painful inflammation in my back, no sweet or cake is worth 6 months of pain.
Although the dried fruit that go into the Christmas pudding are naturally sweet, the traditional version takes extra refined sugar, wonder why? I don't think it's necessary unless you need to keep it for months and months.
I have done this recipe with natural stevia-sweet sweetener, you save some calories and make the pudding more blood sugar friendly, as friendly as can be with all the dried fruit in there. Too much fruit sugar can also cause problems.
Now, some of use do not want to take any alcohol in – not even when it supposedly cooks out, although I have made this recipe with Sherry (that was the only alcohol I still had in my baking selection) you can also replace the Sherry with orange juice. Orange juice will give it a zesty, refreshing edge to the sweetness.
If you are just making one healthy pudding for your self because the rest of the family has not yet cottoned on to the healthy eating, this is the perfect recipe for you, it makes one pudding that is roughly the size of a small mustard jar or ramekin. If you need more, just double or triple the recipe. I think it is actually enough to share with a couple of people since it is just a little treat at the end of a big meal.
I made the cake in a spare mustard jar, this way I could pack it up and give it away as a present, and spread some healthy sweet Christmas love.
Prep time: 5 min
Soaking time: over night covered with a plate.
Cooking in water bath: 60 min
Cooling time: 30-60 min
You need:
40g brown raisins
40g yellow raisins
30g dried chopped figs
30g dried chopped dates
1/2 tsp. mixed spice
sprinkle of ground ginger
1/2 lemon juice
some lemon rind grated off un-waxed lemon
15g coconut oil (dissolved) – you can use other oil of you need to.
30g Almond flour (ground Almonds, preferably un-blanched but those are hard to get hold of)
1/4 cup  Rum
2-4  knife-tips Stevia-sweet 90% powder dissolved in 1 table spoons hot water
Note: getting the sweetness to the desired level is a matter of trial and error, the best thing is to start with a smaller amount of whatever Stevia you have on hand, it can be ready-use, liquid or tabs (need to be dissolved too), adding more is easier than diluting – you could end up with a huge amount of treat -Don't have any Stevia yet? – you can always use normal sweetener products until you are set up.

NOTE:
– you can use normal flour to make this recipe too.
– you can use any mix of  dried fruit you have at hand; just mix what you have to make  up  140 gram.
– replace Rum with any alcohol such as Sherry or Brandy or make it alcohol free with Orange juice.

Mix all the dried fruit, flour and dissolved coconut oil together.
Add the spices and the dissolved stevia here, mix well.
Cover bowl with a plate or cling film, leave to marinate and soak over night.
Next day, fill the Christmas pudding mix into a small screw glas or a ramekin, stuff down to eliminate air pockets, cover the top with aluminium foil or put on the lid of the jar.
Place the glass or ramekin into a pot filled water 1/2 way up the glass. Bring water bath to boil on the stove and then turn heat down to maintain simmer for 60 minutes.
I tried to do it shorter but it wasn't quite there so I stuck to the traditionally recommended 60 minutes. (if the glass still had the label or the glue on it, the cooking will make it come off , you'll be left with a clean glass.
The pudding will be soft to touch and maybe a little expanded.
Remove the glass from the water bath carefully – it will be very, very hot!
Leave to cool.
I put the screw lid in place after and stored the pudding in the fridge, Just checked on it, the lid actually did the freshness un opened pop on me.
Update 08/02/2012 – I have had a test glass of this pudding in my fridge since making it before christmas, guess what it's still ok, no mouldy bits – just a strong smell of  rum, looks like new. So the make a head of the game test  gets a PASS. If we like it or not – Christmas will come round again soon!
I have made another couple for Christmas puddings in jars and given some away as presents, wrapped with seasonal colours and a little bell.
Here's the calorie count.
Full pudding 763 kcals, or share and save some… cream is not included in the calculation.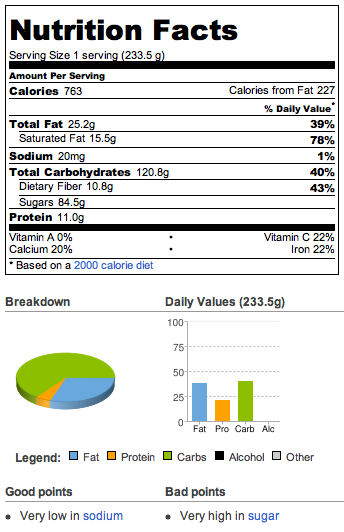 Which Christmas recipe have you converted into a sugar free version lately? I'd love to hear about your favourite recipes.
Are you making two or three to give away?
Merry Christmas!
MK xx