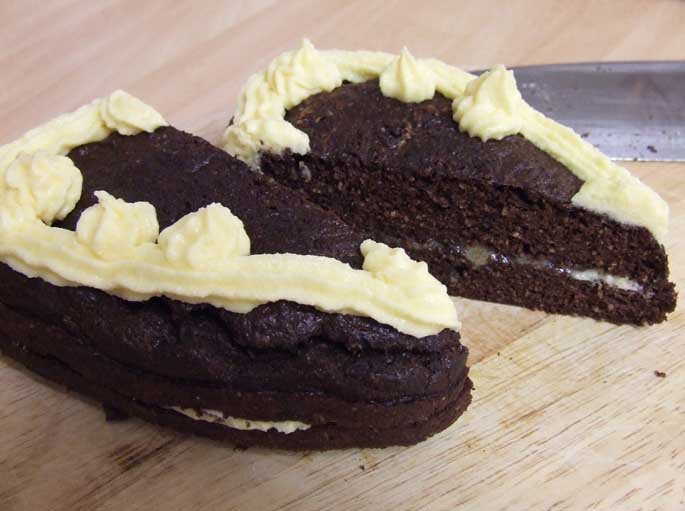 Great all round cake decorating cream, change the flavouring to suit the occasion.
This Butter-free Buttercream is Paleo and Lactose intolerance diet friendly.
Use it for gateaux or cupcakes, spread it on tray bakes or just spoon it out of the cup.
I am using  the mayonaise/ butter cream approach to create this stevia sweetened sugar free creamy dream which will keep you blood sugar levels steady with
its  low Carb / No Carb make up. Check out this great  blog post by Mark Sisson on why controlling the carbohydrates/ sugar intake could help you stay healthy and why it is so important to keep the blood sugar levels steady to avoid giving yourself  Type 2 diabetes.
Now I should probably also calm you down on the large amount of fat that goes into this recipe, it is good fat! Coconut oil is highly beneficial, I have lots of it every day and I am staying the same, what makes me explode is Carbs, Fat can make you happy and calm. Listen to the The Coconut Oil Miracle with Bruce Fife on blogtalk radio or Itunes.
Even though this recipe uses good ingredients I would not suggest to eat it all by yourself or  have it too often, it is a Sunday treat topping not a essential food.
Only 2 1/2 ingredients needed!
Make it with Coconut oil, fresh egg yolks and sweeten it up with all natural stevia-sweet extract.
Now you have a base to add any flavouring you like, coffe, almond, vanilla, cocoa, orange or lemon anyone?
Try a lemon version with the Carrot cake recipe I will post next.
Makes:  1/2 cup full of cream
Prep time: 10-15 min
You need:
Note: getting the sweetness to the desired level is a matter of trial and error, the best thing is to start with a smaller amount of whatever Stevia you have on hand, it can be ready-use, liquid or tabs (need to be dissolved too), adding more is easier than diluting – you could end up with a huge amount of treat -Don't have any Stevia yet? – you can always use normal sweetener products until you are set up.

Beat the egg yolks  with the stevia extract powder until creamy with electric mixer.
Start adding the dissolved, cooled coconut oil a spoon at a time, keep mixing well until all the oil is added and the cream starts to get thicker.
It will harden a little later on when the oil solidifies again. – That is if you don't eat it up beforehand like I did…
TIPS:
– you can use real Butter too.
– keep  in the fridge if making ahead of use
Here's the calorie count.
The whole recipe adds up to 1966 kcals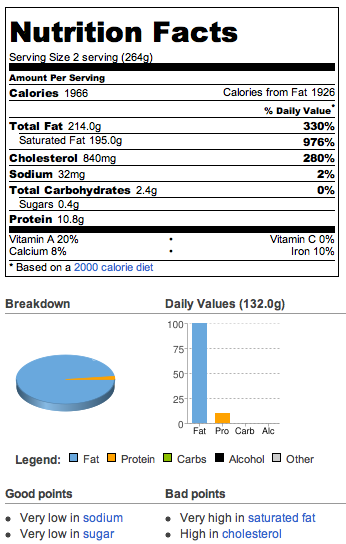 What recipe do you suggest to use for  filling cakes or topping  off cupcakes?
MK xx