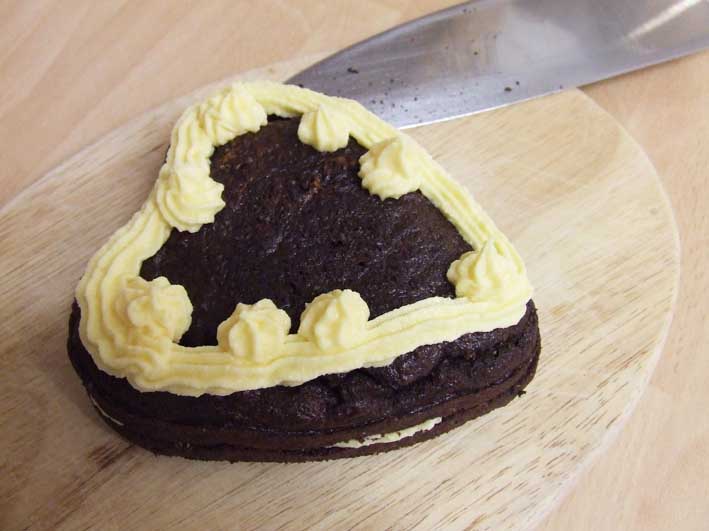 This must be one of the best moist sponge cake base recipes I have converted from a sugar laden, wheat flour original recipe I used to use when I didn't know any better.
This is a great little recipe for Paleo Valentine treats or any other special occasion cakes.
You can decorate or fill it with Coconut mana or try my lactose and sugar free "Butter-free Buttercream" made with Coconut oil and natural stevia-sweet extract, good for the gut and the soul. Not too heavy or sweet.
Fill it with fresh fruit and whipped cream or just have it as it is, this recipe has definitely made it into my personal top 10 cake bases.
Makes: a small 12cm heart shaped sponge cake 7cm high  – enough for two to share
Prep time: 10 min
Cooking: 18min at 180 degree celsius
For the sponge cake base you need:
2 medium eggs
40g ground almonds – mixed ground nuts work too.
2 tbsp. unsweetened Cocoa powder
30g organic virgin Coconut oil
1 tbsp hot water with 1 tbsp instant coffe – optional!
couple of drops vanilla extract – optional
2-4  knife-tips Stevia-sweet 90% powder dissolved in 1 table spoons hot water
Note: getting the sweetness to the desired level is a matter of trial and error, the best thing is to start with a smaller amount of whatever Stevia you have on hand, it can be ready-use, liquid or tabs (need to be dissolved too), adding more is easier than diluting – you could end up with a huge amount of treat -Don't have any Stevia yet? – you can always use normal sweetener products until you are set up.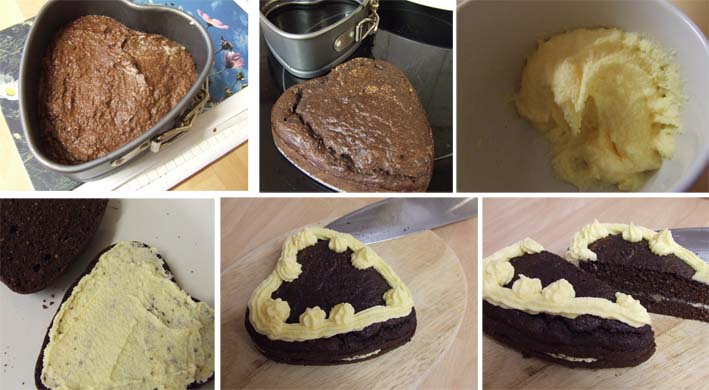 Separate eggs into two bowls, add part stevia extract powder to the egg white part to the egg yolks.
Beat the egg whites to a stiff peak, set a side.
Beat the egg yolks until well mixed, add the dissolved oil with the instant coffe solution, the ground almonds and the Cocoa powder with an electric mixer until well combined.
Take a rubber ladle to add the stiff egg white bit by bit under the nut/cocoa mass, take care not to lose all the fluffiness you have just beaten into the egg white.
Combine to smooth mass and fill into  a small greased baking pan or silicone mold (-no grease necessary).
Place in the pre-heated oven for  18 min, check if it is ready by pricing centre it with a knitting needle, if the needle comes out clean, the inside is cooked.
Leave to cool for 1hour on cooling rack.
Decorate as desired. with 1/2 recipe of the "Butter-free Buttercream"  with Coconut oil and Stevia or for e.g. Melt chocolate and cover generously, fill with fruit or
cream, fresh and home made fruit compote  or maybe the great "All-purpose 100% dark chocolate icing mousse – no added sugar but sweet as heaven"; the options are endless…
TIPS:
– you can use normal flour to make this recipe too.
– If covering with chocolate, place grease proof paper under the cake when covering in chocolate, you can then recycle the excess chocolate that drips off.
– keep  in the fridge if making ahead of use
– for freezing, it's best to leave the chocolate covering off to avoid the freezer burn look.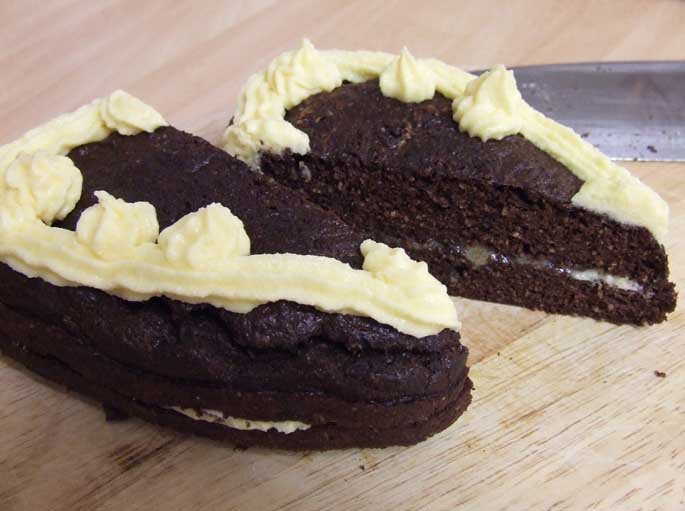 Here's the calorie count.
The whole cake as per image is 1581 kcals – I only used 1/2 the Butter-free Buttercream recipe for this!
Why don't you send me images to add here with your creation using the sponge base, I am sure you will do the most beautiful master pieces.
MK xx