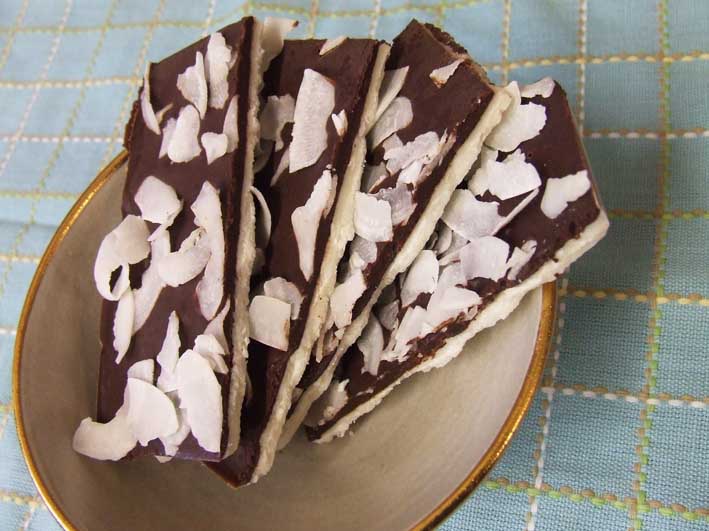 A little experimentation making confect with my favourite ingredients: 100% Chocolate, Coconut, Coconut Manna and of cause Stevia-sweet extract.
I'll keep this post short and sweet as the making of these treats is very simple, all that is required is a little patience during setting time.
Coconut Manna is sweet in itself, so does not require additional sweetening. Use stevia extract powder or liquid to sweeten the chocolate part of the recipe..
Makes: 1/2 sheet black/ white & 1/2 sheet white (approx. 20 portions)
Tray size: 27 x 17cm
Prep time: 5-15 min
Cooling: 20min
You need:
100g Coconut manna (1/3 for coconut manna with dusting, 2/3 for the chocolate layered version)
75g Cocoa liquor/ 100% Chocolate
40g Cocoa Butter
10g coconut rough flakes (for decorating)
1tsp Cocoa Powder unsweetened
couple of drops vanilla extract – optional
Note: getting the sweetness to the desired level is a matter of trial and error, the best thing is to start with a smaller amount of whatever Stevia you have on hand, it can be ready-use, liquid or tabs (need to be dissolved too), adding more is easier than diluting – you could end up with a huge amount of treat -Don't have any Stevia yet? – you can always use normal sweetener products until you are set up.
1) Finely chop or grate 100% Chocolate
2) Slowly melt Chocolate/ Cocoa butter/ Stevia-sweet Stevia liquide sweetener in double boiler (one pot with water with another one inside that contains ingredients to melt)

3) Boil kettle of water and pour into a container that fits the Coconut Manna glass, leave it in the hot water until it becomes creamy/ runny. (the Manna is solid when it is stored)

4) pour the liquid Coconut Manna onto non stick baking tray and leave to set, this does not take long at all.
You can make both at the same time or, like I did here, first the white version and then the layered one.
Here is the finished Coconut Manna Confect: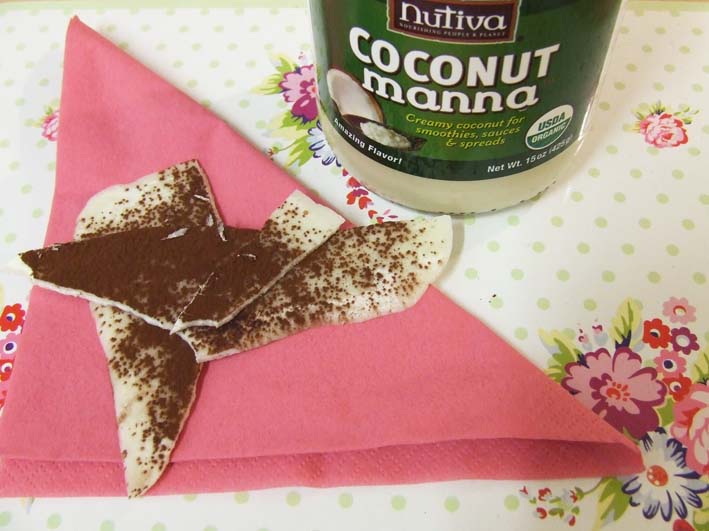 5) Leave the melted combined Chocolate mass to cool down a little bit as to not melt the set Coconut Manna on the tray.
6) Pour cooled Chocolate mass onto set Coconut Manna sheet and sprinkle with rough chopped coconut flakes.
7) Leave to set – cut and enjoy!
Here's the calorie count.
If  all ingredient used to make one sheet confect cut into 20pcs makes one piece 40kcals.
For the Coconut Manna cocoa dusting version, check Coconut Manna Calorie information on glass.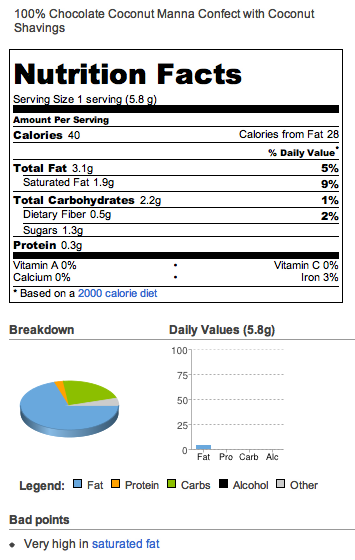 Do you make your own confectionaries? Fancy sharing your recipe?
MK xx