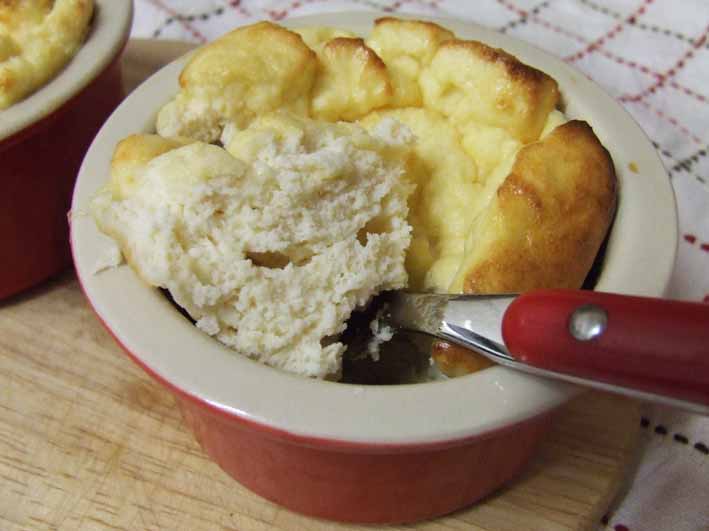 This recipe is great and adaptable  for a super quick healthy treat for 2 any time of the day.
I use 2 small ramekins, the good thing is when you only make enough for one sitting there is no chance of accidentally having too much. Although, when you make sweet treats sweetened with natural  stevia sweetener there will not be any
longing for more after the first portion as your blood sugar levels will not rise and fall in crazy ways.
I have another nice soufflé recipe which does not even require any milk product. – I'll post it next.
Makes: 2 mini ramekins (you can also use tea cups)
Prep time: 5 min
Cooking: 25-27 min at 180 degree celsius
You need:
2 Eggs (separated)
150g Quark ( you can use fromage fraise, or thick yoghurt too.)
15g Coconut Flour
skin of 1/2 unwaxed organic Lemon
1-2  knife-tips Stevia-sweet 90% powder dissolved in 1 table spoons hot water
Note: getting the sweetness to the desired level is a matter of trial and error, the best thing is to start with a smaller amount of whatever Stevia you have on hand, it can be ready-use, liquid or tabs (need to be dissolved too), adding more is easier than diluting – you could end up with a huge amount of treat -Don't have any Stevia yet? – you can always use normal sweetener products until you are set up.
Separate eggs into two bowls, add part stevia extract powder to the egg white part to the egg yolks.
Beat the egg whites to a stiff peak, set a side.
Beat the egg yolks with the stevia and lemon rind until well mixed, add the Quark/ Yoghurt  – mix well, then add the Coconut flour and mix with electric mixer until well combined.
If necessary add table spoon/s of water to ensure the texture is thick and creamy before adding in the egg whites.
Take a ladle to add the stiff eggwhite bit by bit under the egg/ coconut  mass, take care not to lose all the fluffiness you have just beaten into the egg white.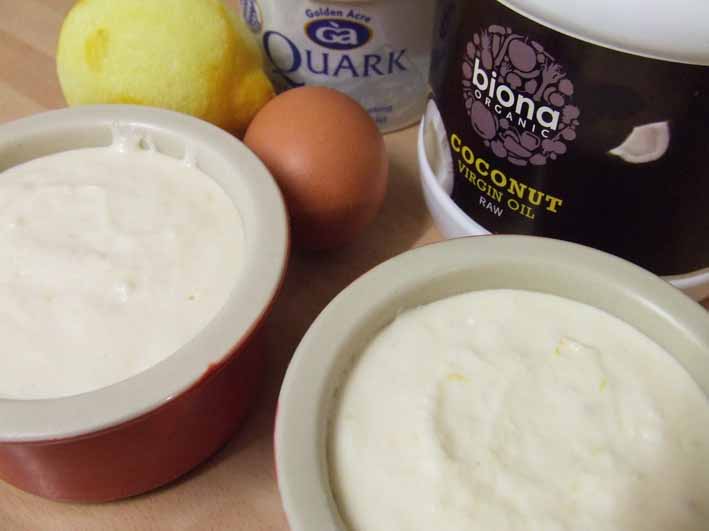 Combine to smooth mass and fill into the ramekins, you don't need to  butter them if you are like me spooning the finished product straight out of the container. (if you want to grease the ramekins, use Coconut oil and powder with coconut flour)
Place in the pre-heated oven for  25-27 min it should be ready when it is dry to touch, and a little bit jiggly.
Leave to cool for as long as you can keep your hands off (15-30 min) on cooling rack.
Get a spoon and dig in. Yum.
TIPS:
– you can use normal flour to make this recipe too.
– place the cooled spare soufflé cake in the fridge and enjoy later.
– top off with fresh fruit or even bake some in.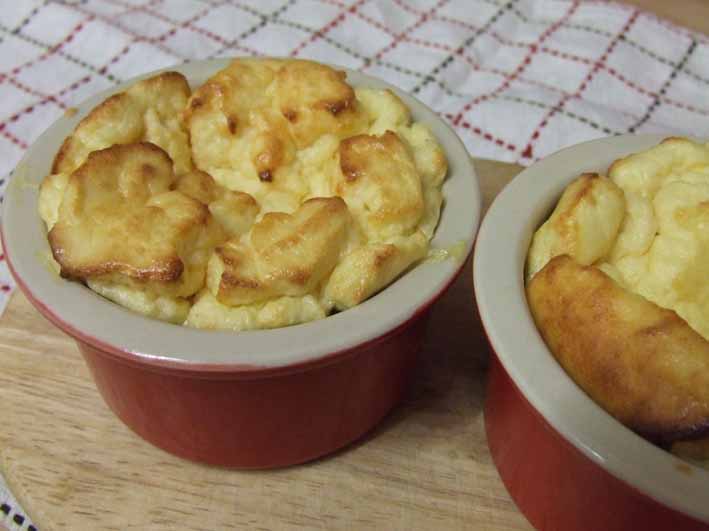 Here's the calorie count.
one serving has 157 kcals.
Any toppings need to be considered separately.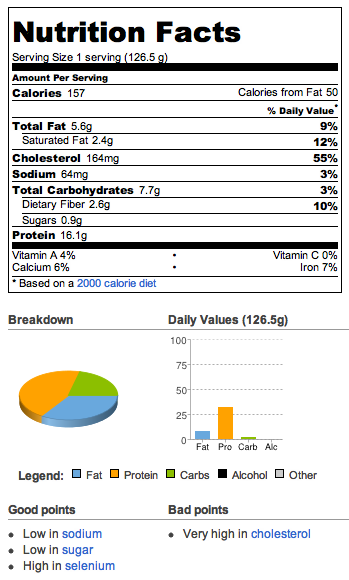 What flavour do you prefer for your cheese cake? Do you add fruit of chocolate?
MK xx