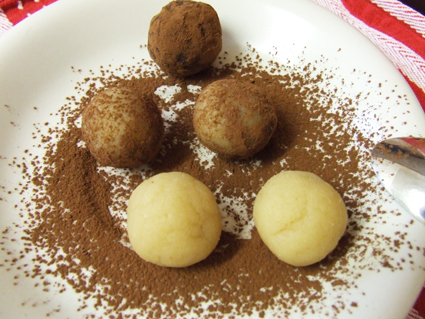 Maybe this is your first sugar free Christmas season, you are wondering how you could participate and how to feel the festivities without your usual sweets? Just make your own to fit in with your new dietary rules.
Last year I created a sugar free marzipan that is very versatile and much nicer than the sugar laden original.
I love German Christmas  sweets like Marzipan Kartoffeln and Domino stones,  now I just make my own.
It is much nicer to know what you are eating and the process of making something is always rewarding.
Makes 150g Marzipan mass
Prep time: 10 min
Shaping: 10-30min
For the marzipan mass you need:
25g Egg whites
120g ground Almond flour (ground Almonds, preferably un-blanched but those are hard to get hold of)
7g/ 1 tbsp Amaretto
100g 90% Lindt chocolate   Optional for chocolate covered Marzipan pralines.
1-2tbsp Cocoa powder – organic unsweetened.  Optional for Marzipan potatoes.
1  knife-tip Stevia-sweet 90% powder dissolved in 1 tsp. hot water
Note: getting the sweetness to the desired level is a matter of trial and error, the best thing is to start with a smaller amount of whatever Stevia you have on hand, it can be ready-use, liquid or tabs (need to be dissolved too), adding more is easier than diluting – you could end up with a huge amount of treat -Don't have any Stevia yet? – you can always use normal sweetener products until you are set up.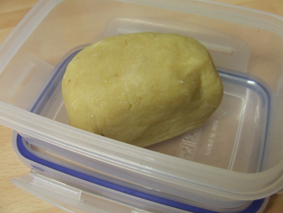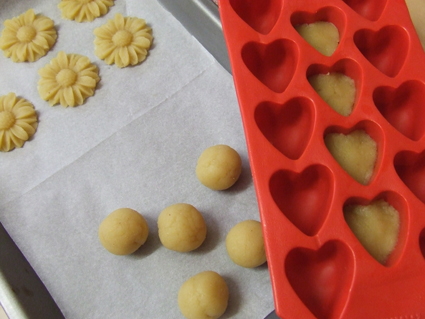 Add 25g egg whites and stevia and amaretto in a bowl and beat with electric mixer, just until it is combined a bit, don't beat it stiff.
Now mix fine ground almonds and mix together by hand until it is not sticky anymore. If necessary add a little more ground nuts to make the mass the right consistency.
Now store in the fridge and sue in a a few days or freeze.
Making your sweets:
Shape marzipan with the help of silicon moulds like an ice cube tray or a cake decorating mould.
Freeze, to set them so it is easier to cover  them in melted chocolate like 90% Lindt. (I place the dipped chocolates on cling film so they come off easily once dry.)
To make Marzipan Kartoffeln/ Potatoes just portion equal amounts and roll into balls. Then roll them in cocoa to give them their dusting.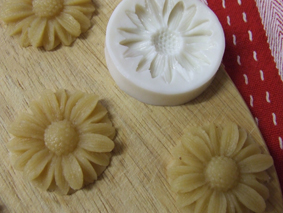 Storing:
Because you have raw egg white in this mass you don't want to leave it too long before eating the sweets.
If you are preparing them in advance, leave them un-coated before freezing them. On the day of use just thaw them and decorate as desired.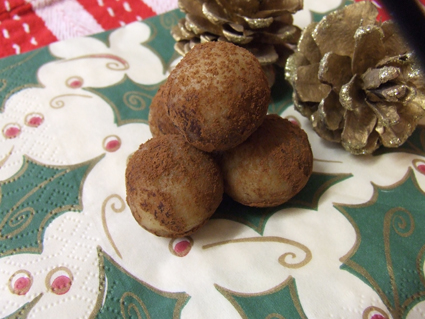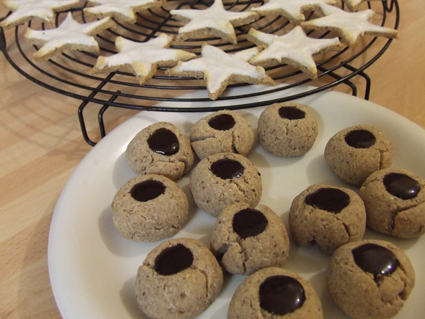 Stevia-sweet Christmast recipes are featured in: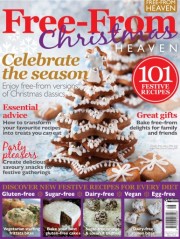 "Free-From Christmas Heaven Magazine" 2014
-Cinnamon stars
-Marzipan Kartoffeln
-Lebkuchen biscuits
-Ferrero Rocher style ice cream balls
Do you have a must have christmas sweet?
Keep you eye open for the sugar free Domino stone recipe.
Enjoy festive season
MK