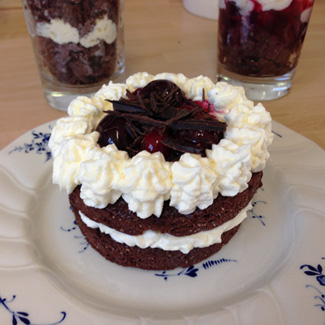 This years home made birthday cake is based on one of my favourite gateaux's from my child hood. We had no family celebrations without this traditional cake from south germany.
I have used the quick and easy moist sponge roulade base recipe and adapted it to be made with cocoa to form the base of my little black forrest layer cakes.
This cake actually nearly never happened. I started with cracking the eggs and the 2nd last one of 6 was kind of rotten which I could only see once it had dripped into the already separated egg whites.
I thought not problem I have another 6 eggs. I started over on collecting the egg whites and bam just when I nearly had it another wonky egg. I have never had doggy eggs in my entire live – how luck am I?
My husband felt very guilty, he had picked those eggs up from the farm just a couple of days back. The lovely man went out and got me another dozen to start from scratch.
Well in the end I managed to get the refusing cakes made.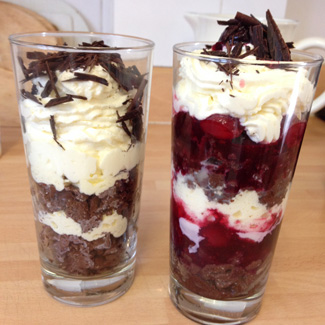 Makes: 3x 8.5cm diameter 3 layer gateaux with spare cuttings for additional layer cakes in a glass
Prep time: 25 min
Cooking: 8min at 200 degree celsius pre heated oven (middle shelf)
Cooling time: 30min
Assembly time: 20min
For the sponge cake base you need:
12 medium eggs
120g ground almonds – mixed ground nuts work too
92g unsweetened organic Cocoa powder
100g Whipping cream (or double cream)
couple of drops vanilla extract – optional
3-6  knife-tips Stevia-sweet 90% powder dissolved in 1 table spoons hot water
Note: getting the sweetness to the desired level is a matter of trial and error, the best thing is to start with a smaller amount of whatever Stevia you have on hand, it can be ready-use, liquid or tabs (need to be dissolved too), adding more is easier than diluting – you could end up with a huge amount of treat -Don't have any Stevia yet? – you can always use normal sweetener products until you are set up.
Sponge Instructions:
Separate eggs into two bowls, add part stevia extract powder to the egg white part to the egg yolks.
Beat the egg whites to a stiff peak, set a side.
Beat the egg yolks until well mixed, add the whipping cream, stevia and any flavouring – mix well.
Then add ground almonds use an electric mixer to mix mass well.
Take a rubber spatula to add the stiff egg white bit by bit under the nut/cocoa mass, take care not to lose all the fluffiness you have just beaten into the egg white.
Combine to a smooth mass.
Line a full size oven tray with grease proof paper – spread biscuit mass evenly.
Place in the pre-heated oven for  8 min, the sponge will still be moist but spongy to touch.
Leave to cool on the parchment paper.
Cut out as many round layers as you can using a pastry cutter or a cup or glass that has a straight edge.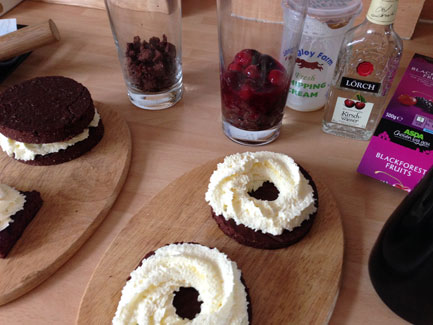 For the filling/ assembly you need to prepare:
Cherry filling:
Frozen Black forrest berry mix – separate cherries out – I had 270g
sprinkle of cinnamon
50ml water
2tsp corn starch or similar to thicken the cherries
1-2  knife-tips Stevia-sweet 90% powder dissolved in 1 table spoons hot water  

Optional
Heat all ingredients in a pot until the liquid has thickened. If you can't wait to start assembling use two different sized bowels to fill the large one with water and ice cubes or ice packs and sit the small one with the cherry mix in the cold bath. It shouldn't take long to cool now.
Leuter sugar Kirsch solution:
50ml Kirsch liquore
2tbsp water
Heat in a pot until the granules have melted, leave to cool.
This solution is used to soak the individual layers and give the authentic black forrest gateaux flavour.
Whipping cream:
2x 250g Whipping or Double cream
Get the whipping cream whipped reasonably stiff. If you are worried about the cream melting away before you get a chance to serve it you can use the gelatin trick as described in this blog post by The Prairie Homestead.
You can use a cake decorating bag or and ice bag with a cut off corner to squirt the cream more precisely.
90% Lindt chocolate shavings: 
 90% Lindt chocolate
sharp knife
This is optional but nice for decorating.
It's very easy to make chocolate shavings for decorating if you have sharp knife, have a look in the video below.
Once you have all your component ready start with your assembly.
Because my cake looked quite waxy after it had cooled I sliced just the surface layer of each circle to help the Kirsh/Leuter solution to soak in.
TIPS:
– you can use normal flour to make this recipe too.
– sponge can be made a day in advance, best to be kept cool in fridge, fill shortly before serving for non soggy sponge.
– keep  in the fridge if making ahead of use
– this cake is great for freezing, don't you love semi frozen cream?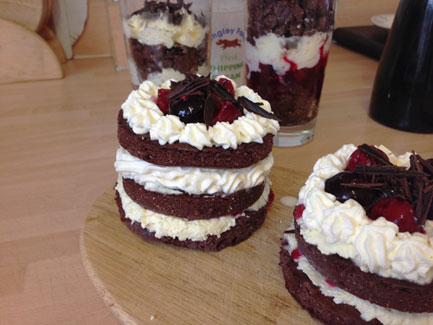 Which cake did you love as a child but feel you can't have it because it is made with gluten or something else you are intolerant to?
MK xx