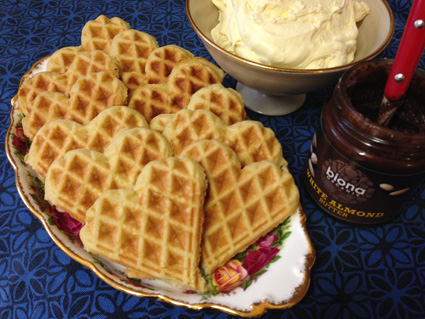 Waffles are probably my favourite Sunday baking treat from when I was a child especially in autumn. We didn't make them very often but every now and then we'd get the idea to makes some and the beautiful thing with waffles is the ingredients are basic so you can just make them on a whim if you bake on a regular basis.
When I recently longed for a treat and thought of waffles, I checked my blog for a recipe and was surprised to see that I did not have a tried and tested one to go to. I then tried various gluten and sugar free recipes but most of them were kind of heavy and made you fill stuffed after just on heart. I then developed my own recipe and this one comes out light, little bit crispy, they waffles stay together very well and they are filling enough but not to the point where you can't enjoy a whole one by yourself.
Makes: about 6 waffles
Prep time: 10min
Cooking: 20-30min depending on your waffle iron and how dark you like them
Cooling time: whilst you make them
Ingredients:
6 medium free range organic Eggs
1/4tsp Baking powder
pinch of Nutmeg
pinch of Cinnamon
couple drops of Vanilla essence – optional
1tsp Lemon juice
85g Coconut oil – melted
1-2  knife-tips Stevia-sweet 90% powder dissolved in 1 table spoons hot wate
20g Coconut flour (sifted)
30g Almond flour
Note: getting the sweetness to the desired level is a matter of trial and error, the best thing is to start with a smaller amount of whatever Stevia you have on hand, it can be ready-use, liquid or tabs (need to be dissolved too), adding more is easier than diluting – you could end up with a huge amount of treat -Don't have any Stevia yet? – you can always use normal sweetener products until you are set up.
 Instructions:
add the whole eggs with the spices (if you don't like them just use what you do like instead) baking powder, lemon juice and melted coconut oil in a bowl and mix until smooth and well combined.
sift the coconut flour into the started batter, add the almond flour – can be sifted too – mix until you get a quite runny batter.
pre-heat the waffle iron on a medium setting or what in your experience works best.
put a big blob of batter in the centre, spread it a little with a spoon until it is nearly to all edge, close and wait for light signal to take it out.
lay finished waffles on a wire rack to cool whilst making the rest.
Serve them with maple sirup or whipped cream.
I made some nutella cream with a white almond butter that I didn't like, just stirred in some un-sweetened cocoa powder.
Tip:
the waffles keep well in the fridge for a few days
they can be re-heated in the toaster (finally found a new use for the toaster other than doing glutenous bread 😉 ) or the oven
they freeze well, layer them in a box or freezer bag with grease proof paper so you can get them out individually
they make great snacks when out and about or traveling
What is your autumn go to recipe when the Sundays are dark and cosy?
MK xx