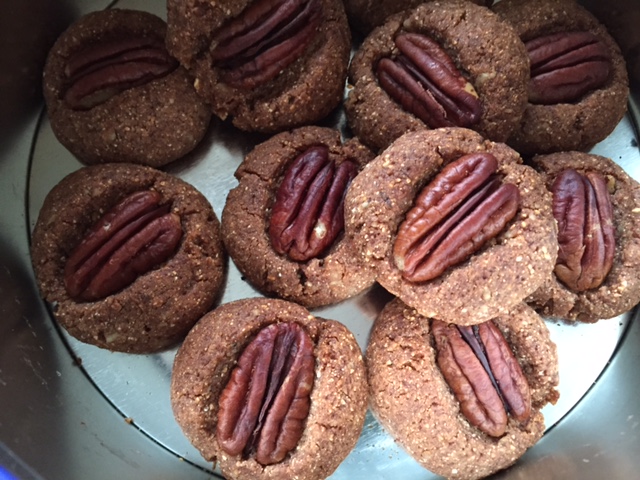 Makes: about 42 cookies
Prep time: 20 min, plus 1-2hours for dough to harden in the fridge
Cooking: 16min
Cooling time: 60min
Ingredients:
150g Almond flour
100g Chestnut flour ( you can use Almond flour instead, change the 40g Almond flour for coconut flour)
100g Pecan nuts ground
1 tsp Cinnamon
10g unsweetened Cocoa powder
pinch of Salt
200g grass fed Butter – room temperature
1 medium egg
1-2  knife-tips Stevia-sweet 90% powder dissolved in 1 table spoons hot water
Whole pecan nuts for decorating
Note: getting the sweetness to the desired level is a matter of trial and error, the best thing is to start with a smaller amount of whatever Stevia you have on hand, it can be ready-use, liquid or tabs (need to be dissolved too), adding more is easier than diluting – you could end up with a huge amount of treat -Don't have any Stevia yet? – you can always use normal sweetener products until you are set up.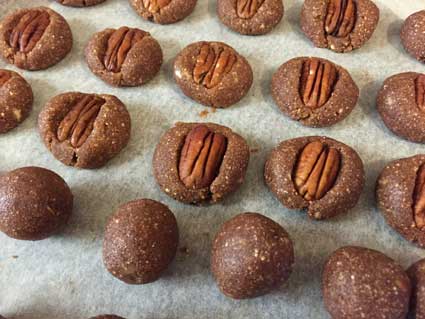 Instructions:
pre-heat oven to 180 degree celsius
mix all dry ingredients together in a large bowl
add in the egg and the room temperature butter, mix with your hands until all the butter is well combined with the dry ingredients forming a nice dough
place in the fridge for 1-2hours to harden dough, or leave it over night.
use a small place on a scale to weigh out even portions of dough to form little balls with. I did 15g each. Do all balls and place on a grease proof paper lined tray.
press one whole pecan nut into the middle of each ball, pace the out
bake for around 16min, turn tray around at half way point to ensure even browning. The cookies will bee still soft when you take them out.
leave to cool
Note: they are reasonably fragile, if you are looking to transport them I recommend to add some binding agent such as xanthan gum.
Serve the loaf slightly warm with grass-fed butter or clotted cream, add home made jam or honey for extra special treat time.
Tip:
they will keep several days in a airtight container or cookie tin.
maybe make half to them with a little dent in the middle that you can fill with jam or chocolate, classic thumb print cookies
Which biscuits have you made for this years christmas period?
MK xx