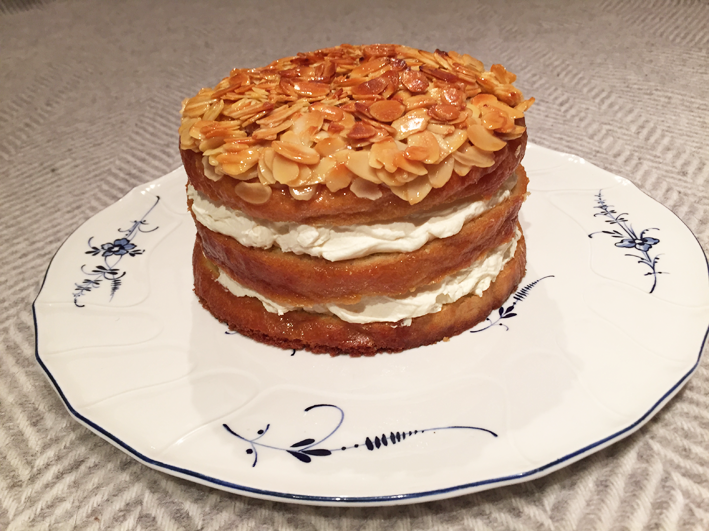 This cake was the birthday cake for my friend who is totally addicted to ginger honey yoghurt. I know I normally bake without Honey or Sugar but in this case Honey is essential to get the nice almond crust. I have tried making caramelised crusts with Stevia-granuels before which worked fine but since I am trying to replicate the Honey-Ginger Yoghurt idea – honey it was.
Makes: small 15cm diameter cake
Prep time: 25 min
Cooking: 28min + 15-20min for crust
Cooling time: 60-120min
Cake base:
Ingredients:
Note: getting the sweetness to the desired level is a matter of trial and error, the best thing is to start with a smaller amount of whatever Stevia you have on hand, it can be ready-use, liquid or tabs (need to be dissolved too), adding more is easier than diluting – you could end up with a huge amount of treat -Don't have any Stevia yet? – you can always use normal sweetener products until you are set up.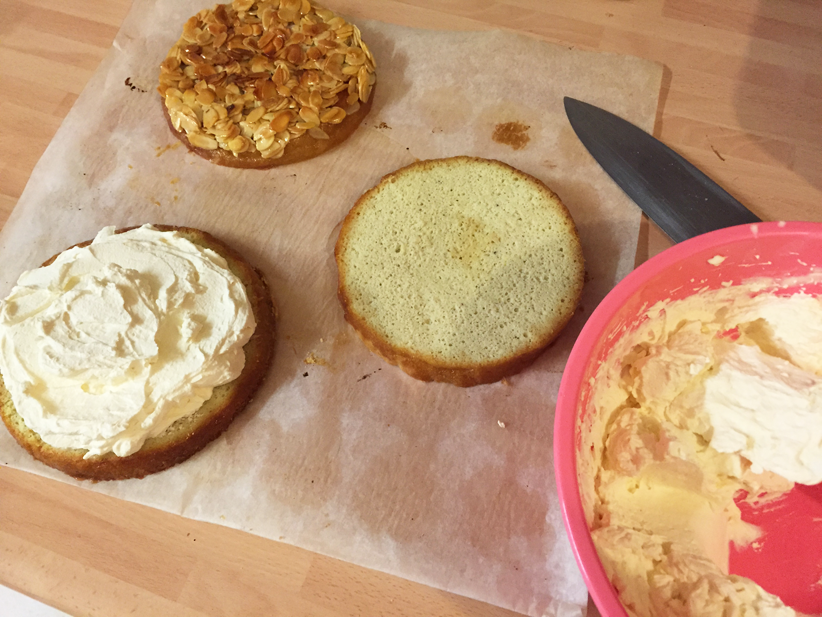 Instructions:
prepare the Almond crust first and leave to cool.
pre-heat oven to 180 degree celsius
Whip the egg whites stiff with the stevia-sweet extract
mix the egg yolks and the melted cooled butter until creamy
mix all dry ingredients together in a large bowl
add the dry ingredients to the egg yolk-butter  mix, use electric mixer to combine
add whipped egg whites in several parts, using electric mixer on low speed setting
fill smooth and well combined mass into a cake-ring lined with grease proof paper
bake for around 28min, turn tray around at half way point to ensure even browning. The cake will not be cooked fully, add the Honey Almond crust mass at this point.
bake for further 15-20min turning the cake frequently to get even browning for the caramelised almond crust. (keep checking that it does not get too dark, burned Honey glaze will taste bitter)
leave to cool before cutting into layers and filling with honey ginger cream
Almond Honey caramelised crust
Ingredients:
70g flaked Almond
1tbsp double cream
40g Honey
30g melted Butter
Instructions:
melt cream, honey and butter on low to medium heat in a pot
stir in the flaked almonds
leave to cool before adding on top of the cake and bake as described in point 9. above.
Ginger-Honey cream filling
Ingredients:
450ml double cream
2-3tbsp Honey
fresh grated Ginger to taste
Instructions:
add ginger and honey into the double cream
mix until the cream is stiff enough to stay on the cake, take care double cream quickly turns to butter if beaten too long.
Assemble the cooled cake by spreading ginger-honey cream on each base and stacking them up.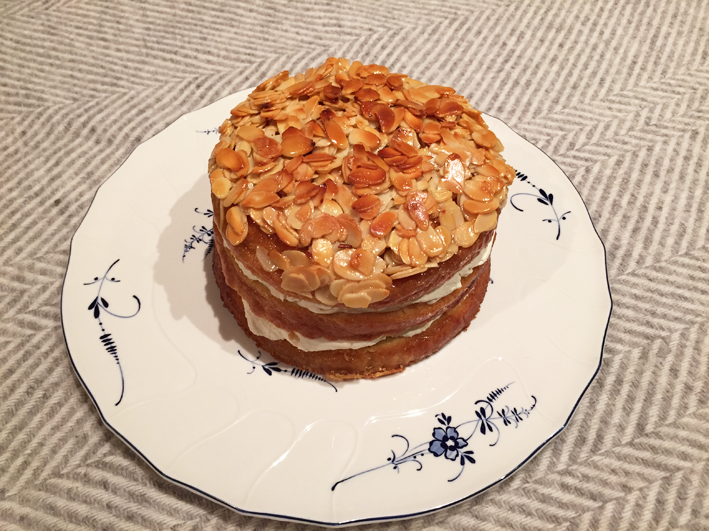 Tip:
the cake will keep several days in the fridge
for freezing cut them into pieces, separate with greaseproof paper and defrost as required
Do you have a favourite Ginger treat recipe?
MK xx