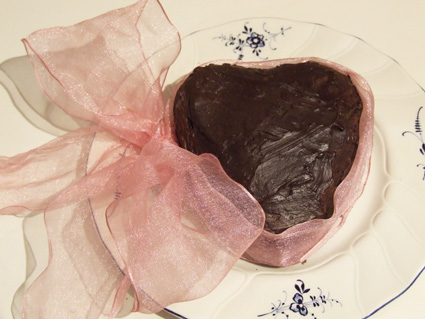 Be my Valentine; make this divine gateau knowing it's a healthy gift of love.
This recipe is great for Diabetics as it uses Stevia for sweetening which is a non-calorific, naturally sweet herb from Paraguay. It is said to encourage the release of insulin and normalizes the response to glucose, particularly in type 2 diabetes. In Latin America, it is utilized as an inexpensive therapy for hyperglycaemia.
I have been making this particular recipe nearly every weekend since I developed it for my husband's birthday, his comment: "it's the absolute best cake you made yet". Note: I make cakes all the time, with and without sugar. With is usually when it's for the general public like my husband's work colleagues who may not be open minded enough to try a naturally sweetened cake.
I have found in the past that people's expectation of the level of sweetness is the main downfall when looking to get the thumbs up on your stevia sweetened cake. What I usually do is warn people to expect the sweetness to be very different from a sugar sweetened cake. This worked very well when I offered my work colleagues to try some 100% chocolate truffles I made one Christmas and they absolutely loved them. They spread the word round the whole office and created a stream of people asking to try them too.
So, if you are a convinced stevia user like me – don't give up on spreading the word – the broader population will appreciate stevia sweetened cakes when they learn about all the glorious advantages that this natural low GI sweetener brings with it.  I particularly like the fact that Stevia does not have any calories – which allows me to reduce my calorie intake without needing to feel hungry or missing out. Unlike with other sweeteners that increase the appetite for sweets and food in general (you may have heard that they are used to increase appetite in pigs to fatten them quickly), Stevia just sweetens without any such counterproductive effects; leaving you to just simply enjoy healthy treats.
Let's get down to actually making diabetes friendly dark chocolate cake with icing that will set beautifully, keeps the melt in the mouth texture, but without the need for mountains of butter. When you make this icing you will find you want to use it every time a recipe calls for icings or fillings. I adapt the flavour as required using Dr Oetker baking flavourings or even a little bit of alcohol such as amaretto or sherry.
Makes 6inch/ 15cm round cake
Prep time: 30min
Baking time: 15min in 180 degree Celsius preheated oven

You need:
100g whole meal flour
1 teesp. Baking powder
2 medium Eggs
45g 100% Chocolate (I use Baker's Unsweetened Chocolate)
50g Flora light, 38% Vegetable low fat spread
1 tabsp. Instant coffee
50ml Amaretto (can be replaced with water/ milk if you add flavouring)

3-5 knife-tips Stevia-sweet 90% powder
Note: getting the sweetness to the desired level is a matter of trial and error, the best thing is to start with a smaller amount of whatever Stevia you have on hand, it can be ready-use, liquid or tabs (need to be dissolved too), adding more is easier than diluting – you could end up with a huge amount of treat -Don't have any Stevia yet? – you can always use normal sweetener products until you are set up.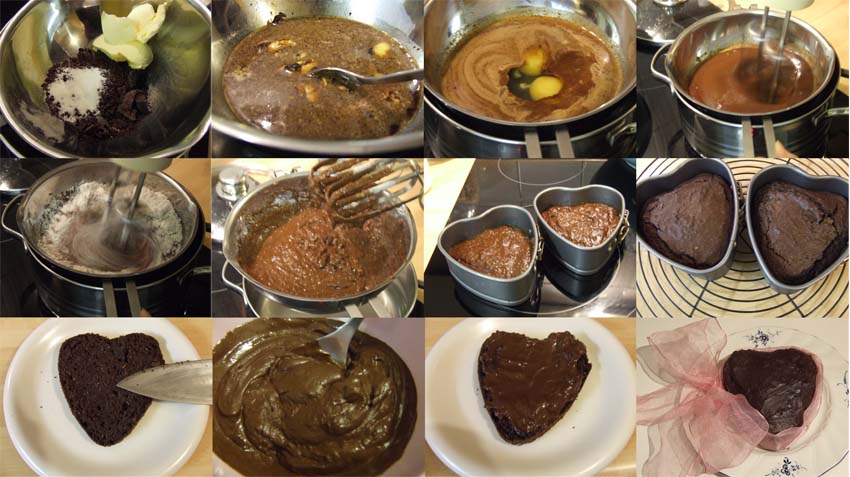 Instructions:
Start by roughly chopping the chocolate to aid quick melting. Place chocolate, butter, coffee, amaretto and Stevia-sweet 90% powder into a metal bowl and stand over a water bath on low temperature. Melt/ dissolve ingredients until fully combined. Take off the heat, pour into another bowl and leave to cool a little then add in the eggs – immediately mix with an electric mixer to a smooth, thick mass. Now add the flour and baking powder mix well.
Pour the batter into a greased cake tin and bake in pre-heated oven for 15min.
Remove from oven and leave to cool. (Now is the time to prepare the icing)
I like to cut my cake in the middle to fill with a layer of the icing as well as smothering the outside all over. If you need it to set fast, place it in the freezer for 20-30min.
Here's the calorie count.
Whole cake excluding icing approx. 828kcals
Look out, the sumptuous icing follows in a wink.
Remember the way to a man's heart is through his stomach; treat him with this divine message of love.
With love, happy Valentine's.
MK xx