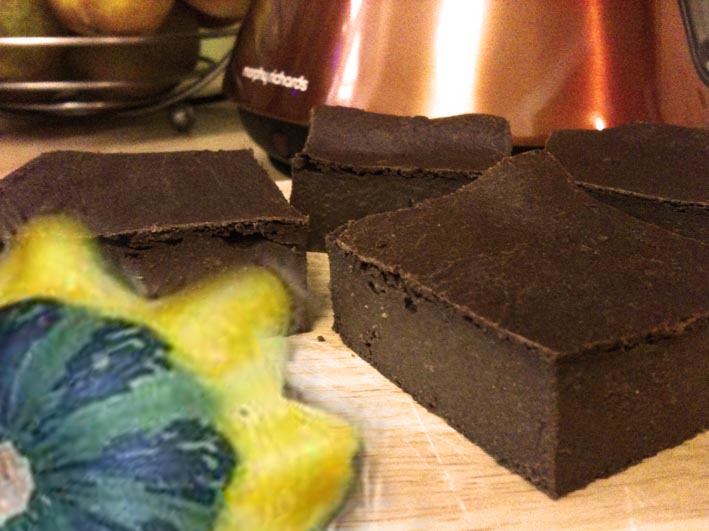 Super food pumpkin brownies, all the goodness without the sugar crash after indulging. When you sweeten your brownies with natural stevia-sweet sweetener, you save calories whilst enjoying what you like best – sweet treats, yum yum.
You are not a fan of pumpkin? These moist, smooth, creamy pumpkin brownies are the best way to disguise pumpkin and reap the nutritional benefits.
Pumpkin is high in vitamin A, potassium, calcium and zinc, and has a low sodium content. Due to the low levels of protein, fat and carbohydrates it is a low calorie vegetable. The protein contained is very high quality and promotes the formation of insulin.
Cooked pumpkin meat is easily digestible and high in fiber. Citrulline, an amino acid contained in the pumpkin promotes the excretion of metabolic waste products and detoxification.
The high content of potassium, calcium and zinc is striking, alongside a low sodium content, makes the pumpkin a great tool for combating high blood pressure as well as bladder and kidney  problems.
The pumpkin I used looked like a flying flower shaped saucer, the flavour was very mild to non existent.
Lets look at the recipe, I cooked my pumpkin on the oven a few days earlier, scooped it out and stored the flesh in the fridge until I made  my mind up on what to bake with it since the flavour was too mild to have it as a vegetable dinner.
Makes small 22cm x 22cm roasting dish cut into  approx. 9 servings
Prep time: 10 min + time it takes to cook your pumpkin
Baking time: 40-45 min at 190 degree Celsius 
Cooling time: 30min 
You need:
550g cooked pureed pumpkin
60g Stork baking margarine
90g raw/ 100% chocolate of which ever brand you prefer
2 tbs unsweetened cocoa powder
1 tbs freeze dried/ instant coffee
couple of drops vanilla extract
1/4 tsp Lebkuchen spice or All spice/ pumpkin spice
2 large eggs
90g flour
1 tsp baking powder
1-2 knife-tips Stevia-sweet 90% powder dissolved in 

1 table spoons hot water
Note: getting the sweetness to the desired level is a matter of trial and error, the best thing is to start with a smaller amount of whatever Stevia you have on hand, it can be ready-use, liquid or tabs (need to be dissolved too), adding more is easier than diluting – you could end up with a huge amount of treat -Don't have any Stevia yet? – you can always use normal sweetener products until you are set up.
Start by melting the chocolate and the margarine. Combine all the ingredients, add in melted chocolate/butter, sweeten with Stevia-sweet to taste, mix until the batter thick, smooth and creamy. Butter the roasting dish, fill with the batter and smooth out.
Bake in a pre- heated oven for 40-45min. The brownie will have a dry surface, and is slightly soft to touch, the sides of the brownies should have peeled away from the baking dish sides.
Leave to cool. I had my brownies both as they were and toasted. Delicious, they are  like a creamy nougaty chocolate treat.- Oops I ate them all by my self, keept going back.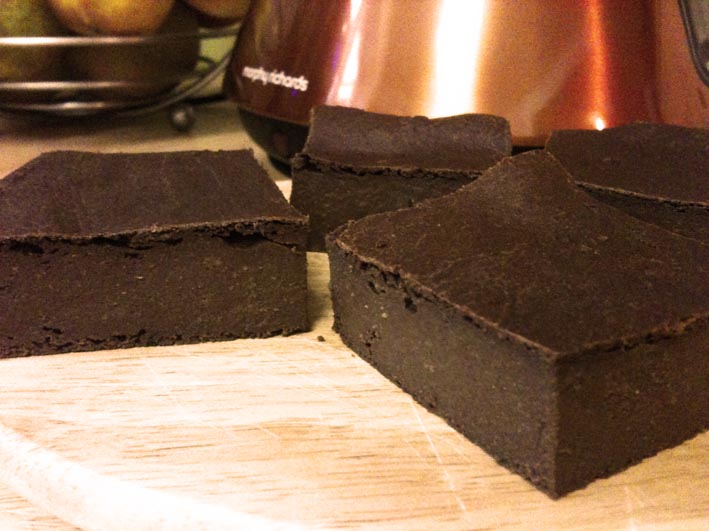 Here's the calorie count.
If divided into 9 servings, 1 pcs approx. 138 kcals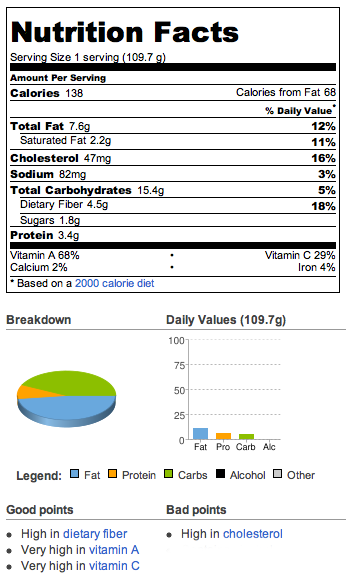 What  do you make with your pumpkins during the harvest season, I'd love to hear about your sweet treats!
MK xx