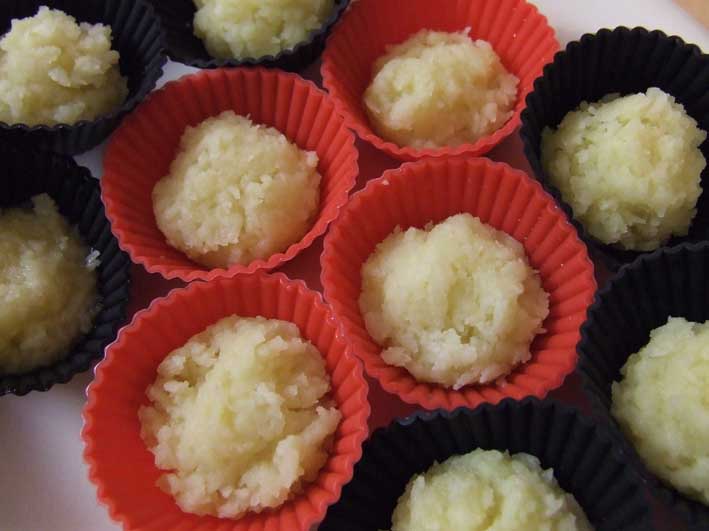 Zesty, refreshing lactose free lime coconut manna truffles with cocoa butter.
Nice recipe I mixed up with all ingredients I like  a lot, especially the coconut manna/ butter is so delicious I wanted to use it in combination instead of just spooning it out of the glass. The Lime coconut truffles are suitable for Paleo and Vegetarian as well as people with Lactose intolerance – really a great sweet for everyone.
The recipe is very simple too, so kid's can help; they will love getting their fingers sticky when forming the little zesty truffle balls.
I like to use re-usable silicon cases to avoid wasting paper or packaging.
We are also ticking the blood sugar friendliness box too with the help of the all natural stevia-sweet extract powder or liquid.
Make it with Coconut oil, fresh egg yolks and sweeten it up with all natural stevia-sweet extract.
I think next time I will use fresh orange juice to make these, its bound to work well.
Makes:  10 little balls
Prep time: 10 min
Forming the balls:  10-15min
You need:
Note: getting the sweetness to the desired level is a matter of trial and error, the best thing is to start with a smaller amount of whatever Stevia you have on hand, it can be ready-use, liquid or tabs (need to be dissolved too), adding more is easier than diluting – you could end up with a huge amount of treat -Don't have any Stevia yet? – you can always use normal sweetener products until you are set up.

Dissolve the Coconut Manna and the Cocoa Butter over a water bath.
Stir in the limejuice and the stevia fluid.
Add the desiccated Coconut and mix well
Form balls.
Eat or put in fridge to harden.
Keep in the fridge for a couple of days at least.
Here's the calorie count.
one pcs if recipe makes 10pcs adds up to 91 kcals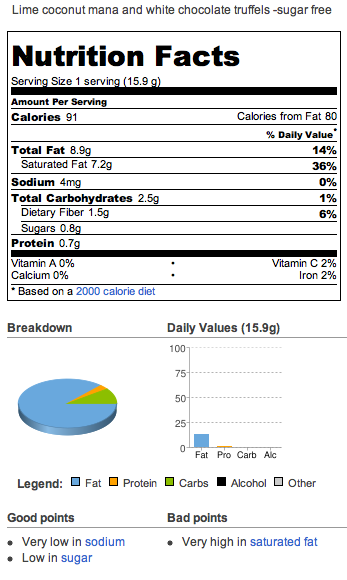 Do you love making truffels? Have you got an unusual combination of flavours that the world needs to know about?
MK xx