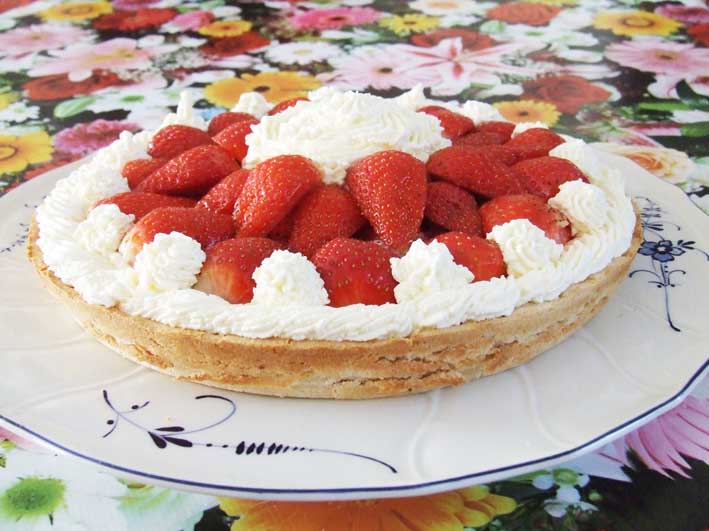 You probably think, shortbread without refined sugar, NEVER -how would you get the crumbly crunchy texture?
Shortbread is so named because of its crumbly texture, it originated in  Scotland and is popular tea cake throughout the UK.
The original Shortbread is baked at a low temperature as dark browning is not desirable. When it comes out of the oven it is nearly white, or a light golden brown.
It is quite crumbly even before it is fully cooled, the paleo version will become firmer but not less crumbly after cooling.
Shortbread is an ideal base for cake with fresh juicy fruit as it is firm enough to stand up to the moist berries and cream, only absorbing some moisture when left standing without losing its crunchy identity or becoming a soggy mess.
Have you ever over eaten Strawberries to the point where you got yourself an allergic reaction? It is easily done when they are so delicious.

Shortbread cake base
Makes: 23cm round cake base      Servings: 14 – this is a small cake
Prep time: 10 min
Cooking: 25min at 180 degree celsius pre heated oven (middle shelf)
For the shortbread base you need:
70g Almond flour / ground almonds – mixed ground nuts work too.
70g Coconut flour
50g Quark or Yoghurt (if you don't want to use dairy you could use the thick separate part of the coconut milk)
20g Coconut oil
couple of drops vanilla extract – optional
1-3  knife-tips Stevia-sweet 90% powder dissolved in 1 table spoons hot water
Note: getting the sweetness to the desired level is a matter of trial and error, the best thing is to start with a smaller amount of whatever Stevia you have on hand, it can be ready-use, liquid or tabs (need to be dissolved too), adding more is easier than diluting – you could end up with a huge amount of treat -Don't have any Stevia yet? – you can always use normal sweetener products until you are set up.
Shortbread base Instructions:
Melt coconut oil.
Add all ingredients together and combine to a smooth mass by hand.
You can put it in the fridge  for 2 hours to harden the fat again to allow the rolling out to be easier, I have found that it's fine press the dough into the pan by hand.
Grease a baking pan, dust with coconut flour – press the short cake base (best by hand as it can be sticky).
Place in the pre-heated oven for  approx. 25 min, the base will be lightly golden, it does not really need longer than 25min.
Remove from oven leave to cool.
Careful – the missing gluten makes this base very brittle – handle with care.
Whilst the base is on the oven you can start preparing the strawberries and whip the cream or coconut milk.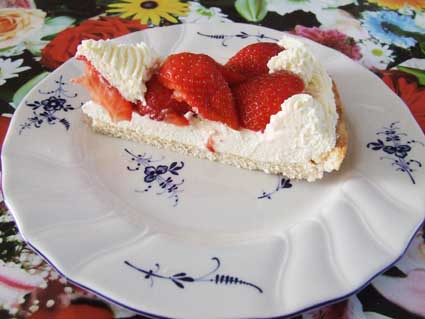 Ingredients for Topping:
400g Strawberries
150g Whipping cream
150g Double cream
TIPS:
– you can use normal flour to make this recipe too
– replace the Quark/ Yoghurt with more coconut fat or room temperature butter, or thick part of coconut milk (it is not always thick, it depends on whether it has separated from the water a bit)
– short cake can be made a day in advance
– the whole cake can be kept in the fridge for a few days,
– it even freezes well cooked, freeze without topping.
– if you are in a hurry you can speed up setting of the dough lump by placing in the freezer.
Here's the calorie count.
One slice approximately  160 kcal's if cake is divided into 14 pcs.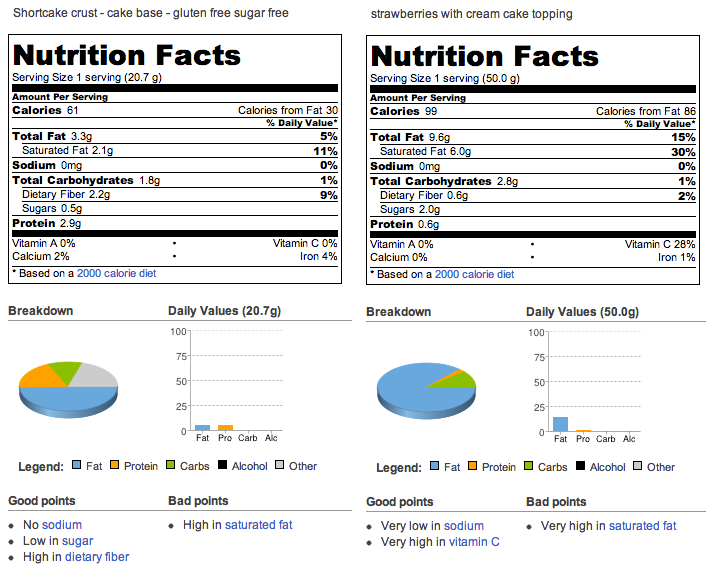 Have you got favourite way to indulge in strawberries?
MK xx
17/07/13 – Here the strawberry short cake my friend made following this recipe, are you going to make one too? Send me a picture….