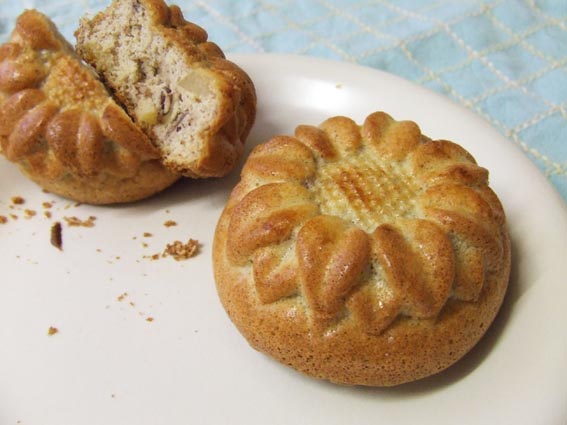 This recipe has been my go to for several month now, every time I am traveling or I am am out and about needing a packable snack I make these.
They keep well in the fridge, several days. They don't cause cravings and are just incredibly moist and delicious.
My husband keeps asking for these, when I made them I have to hide the ones I want for another time.
This recipe is great for people new to using stevia, the cinnamon helps disguise the slight stevia taste that is so often criticised by people expecting a total equivalent to sugar.
You can't really get these wrong, unless of cause you burn the lot.
Makes: 12pcs  in a silicon moulde
Prep time: 10 min
Cooking: 20-25min at 180 degree celsius pre heated oven (middle shelf)
You need:
5 eggs  Medium ( egg white beaten stiff separately)
36g Almond flour / ground almonds – mixed ground nuts work too.
26g Coconut flour
60g Coconut oil or Butter melted
1-2 teespoon of Cinnamon
juice of 1-2 lemons
1/2 tessp. of baking powder
1 medium sour apple like Braeburn cut into fine chunks (any apple works though)
1 hand full of pecan nuts chopped (any nuts will work)
1-3  knife-tips Stevia-sweet 90% powder dissolved in 1 table spoons hot water
Note: getting the sweetness to the desired level is a matter of trial and error, the best thing is to start with a smaller amount of whatever Stevia you have on hand, it can be ready-use, liquid or tabs (need to be dissolved too), adding more is easier than diluting – you could end up with a huge amount of treat -Don't have any Stevia yet? – you can always use normal sweetener products until you are set up.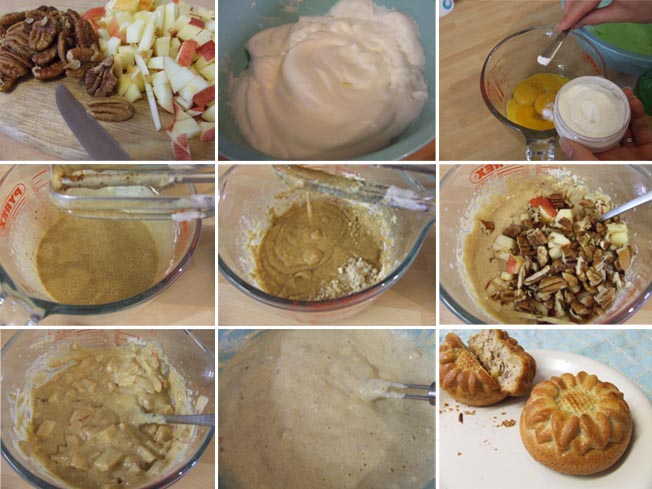 Process:
Beat egg whites before doing anything else.
Mix egg yolks and melted coconut oil with stevia and cinnamon and lemon juice, baking powder until creamy and well combined.
Add in almond flour and coconut flour.
If the batter is really thick and sticky, add a tiny little bit of sparkly mineral (i.e. 1-2tbsp) water to make it slightly more smooth.
Then add in the egg whites, don't worry about mixing and possibly beating out the air it works in any case.
Stir  in chopped nuts and apple.
Fill into your silicon mould/s
Bake for approx. 25min at 180degree celsius
Leave on a rack to cool and then enjoy.
These are best kept cooled in the fridge if you want to store them longer than 2 days.
Yes I  have give up doing the calorie count/ nutrition info, I stopped counting calories last year in summer and ever since then had a much better time all round.
And no I didn't get fat.
MK xx