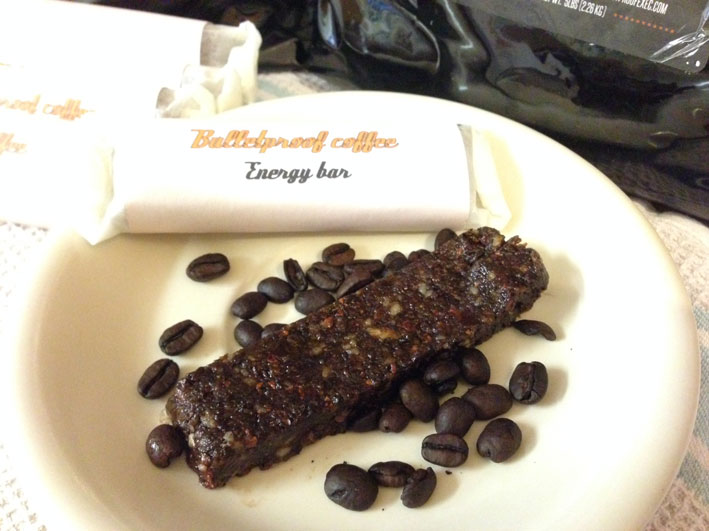 Have you noticed before how expensive a little squished together bar of fruit and nuts can be? Most energy bars cost around £1 and more which is kind of crazy when you can make them at home, have some productive feeling and save money at the same time.
Energy bars are not normally my go to snack since they are usually made with large amounts of dried fruit and lots of nuts, but some times they are a handy emergency snack, especially when you know whats in them.
I recently did the elimination diet and needed a treat that was free of a lot of things – I replicated the Pecan nut bar from Nakd which is made with Made with Dates (52%), Pecans (28%), Almonds (20%). it worked a treat and kept me sane on my camping trip.
Because I quite like the Bulletproof coffee regime I was looking at what else I could do with the decaf beans I still had. I have been experimenting and this recipe is what I came up with after a couple of tries.
The Bulletproof energy bars are easy to make, can be wrapped in greaseproof paper and stored in the fridge to keep them fresh and solid.
To avoid using even more dates than I had to to glue everything together I used coconut oil which is always a great way to bring energy levels up and hunger pangs down.
Makes: about 7pcs, 9.5cm long and 3cm wide
Prep time: 25 min
Cooling time: 30-+60min
Wrapping time: 20min
Ingredients:
30g ground bulletproof coffee beans (I used decaf)
60g Macadamia nuts – ground
20g cocoa nibs – ground finer than they come
20g melted coconut oil
90g pitted dried dates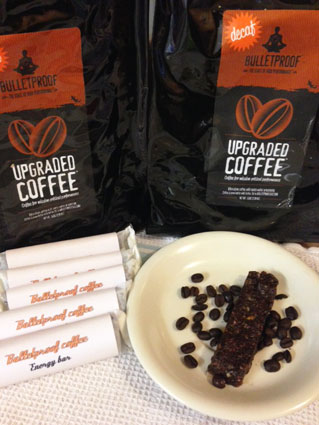 Pre-grind the coffee beans, nuts and cocoa nibs so they are much finer – if they are too grainy they will prevent the bar sticking together later.
Melt the coconut oil.
Add everything into a blender with a chopping knife. Blend until everything is combined.
Line a tray or lunch box with grease proof paper, press the mass onto the tray – compacting it further.
Place in the freezer to set for 30-60min, solidifying the coconut oil again.
Cut the bar strips and wrap them individually in greaseproof paper – making them easily transportable.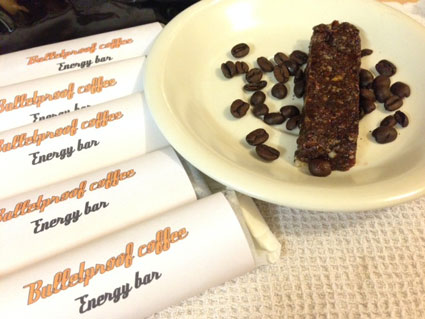 Do you have an unusual recipe using bulletproof coffee other than the breakfast butter coffee?
Drop me a message and share your ideas.
MK xx
Fancy trying out the Bulletproof coffee breakfast ritual? Enter to win a Bulletproof coffee essential kit.