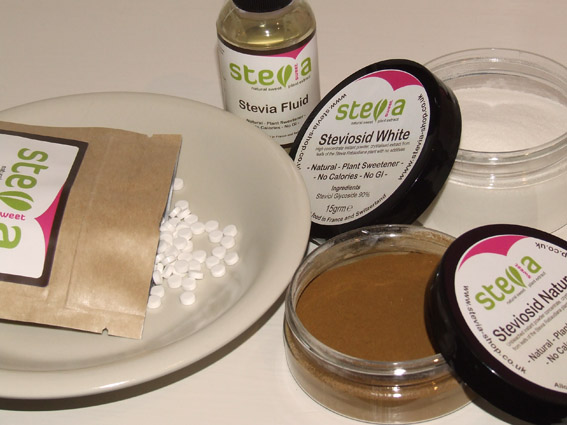 …when using Stevia.
Strength and sweetness?
One of the main attributes of Stevia is that it is very efficient – it is 200-400 times sweeter than sugar, very little is needed to sweeten a whole batch of cake batter.
The measurements in my posted recipes should be used as a guide only – Your personal sweetness preference determines how much you will add of the Stevia product you have chosen to use. Moreover, take into account that sweetness potency varies greatly between different Stevia brands.
One of the most common mistakes made by people new to Stevia is using too much product and by that over sweetening the food to the point that it has such a strong Stevia after taste that a love is lost, usually one teaspoon of stevia would be equivalent to one cup of sugar.
When introducing family and friends, it pays to start with a well-tested recipe you know they won't be able to resist. Do try and let them know that you have not made this treat overly sweet, reducing the high expectation for a super sweet treat, keep the secret of the new ingredient safe until they have had a good chance to experience the great taste – bear in mind that the Stevia sweetness has been found to have a slower onset and longer duration than that of sugar.
Mostly, the downfall when seeking approval for a Stevia sweetened treat is the anticipation of the sweetness level of commercially sugar-laden foods. I would admit it's a bit of an acquired taste – I did not use to like olives when I was younger – I do now eat them (by the bucket load) – it's about being open-minded to experience the taste and adjusting ones expectations – how could Stevia taste exactly like sugar if it isn't anything like it – its better – we just have to learn how to harness its potential first.
After taste?
You may have already read about Stevia's bitter or licorice-like aftertaste issues on other websites. I do agree that Stevia does have a very slight spicy after taste, but the strength of this depends greatly on the quality of Stevia product used and open-mindedness. We should not forget that all current commercial sweeteners have some sort of chemical aftertaste.
You will find you have a better experience of flavor the higher quality Stevia product you use – the bitterness is directly related to the quality of the plant used for the extract.
When used expertly diluted in beverages and baked goods the bitter flavor disappears and an enjoyable experience of sweetness can be achieved. Lemon or chocolate for example go incredibly well with stevia and in my opinion eliminate the after taste all together –stevia's licorice after taste can be even be used as an advantage enhance the some recipes like spicy fruit cakes.
The distinct after taste is the main issue that stops the global players exploiting Stevia's properties for their own monetary gain. It is already hailed as the "green gold" due its very large number of positive health benefits – the race is on to find a chemical solution to disguise the taste/ after taste.
I prefer the idea of using Stevia in the raw, making my own treats – this way I know what is in what I am consuming. As a fitness instructor I am very mindful not to consume any ready-made food that contains ingredients that are unhealthy and unnecessary –food is fuel, power your body with the best you can get your hands on.
Finding the right product for you – trial and error – personal preferences.
My very first Stevia powder was given to me by my sister; it was green/ natural coloured and had such a strong horrible after taste that I did not use it, it was in my cupboard for 2 years (I am bad a throwing things out)!
I was keen to harness the positive health promoting attributes of Stevia and got on well with the Stevia tabs she had given me for my tea and coffee. Even with the tabs, there are good and bad quality products.
The bad ones don't dissolve well and might even leave froth on the surface of your drink, good Stevia tabs dissolve well and even work with coffee. Some people like stevia in herbal teas but not in coffee as they find it spoils the coffee taste for them.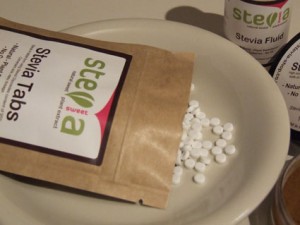 I love Stevia in my morning coffee – I add a few other spicy treats like ginger and cinnamon or aniseed as well as cocoa – I already look forward to my cuppa the night before.
Over time, I have used Stevia in various forms and concentrations form a variety of suppliers all over Europe. Some products were better than others in regard to strength and after taste.
I have now established which product works best for me and because I am so passionate and convinced by the benefits of Stevia, I have decided to make it available to UK customers through www.stevia-shop.co.uk. You may think why?
The main thing that annoyed me when ordering from other countries was the shipping cost was so extortionate that I had to always invest in a lot of product in one go making an order worth while, it felt like a very expensive investment every time. The aim of the shop is to make Stevia available with economic packaging and quick shipping.
I should mention that Stevia is also available in concentrated liquid/ fluid form- two to four drops of the liquid extract added to tea or coffee should be sufficient to sweeten the beverage.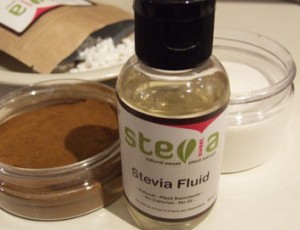 This form of Stevia is also great for sweetening creamy textured foods such as fruit smoothies, yoghurts or porridge – really anything that needs to be sweetened instantly – it works very much like any other commercial liquid artificial sweetener and is easier to dose than the white powder extract.
At one point when I found I struggled to get the dosage right, I switched from a 98% powder to liquid in my baking, I kept having to shake the bottle over the batter for ages using lot of fluid and one day when I run out of fluid, I switched back to powder and am now confident in getting amount of the Stevia-sweet powder just right with the slightly lower strength 90% Stevia-sweet powder – used in the recipes I post here.
I used to use Stevia in liquid form a lot for salad dressings till the nozzle droppers that were medical grade got encrusted with the crystalized fluid and the drops didn't come out the way they should have to make sweetening my life a smooth operation.
For my Stevia-sweet fluid, I have decided to use a different bottle top that still allows for precise dosage drop by drop but without the crazy shaking. You can always dissolve some extract powder in filtered or boiled water to make liquid – this is best kept in the fridge. – Choosing which products work well for you takes a little bit of practice; they all have their place.
Using Stevia successfully for baking and treats.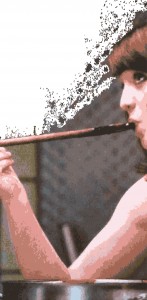 Now, back to using Stevia to make sweeties. When you try to make stevia sweetened treats for the first time, always start with the exact amount or less Stevia the recipe calls for, then taste the batter/ sauce etc. during preparation to check if it's sweet enough before adding any more of the product.
You can also wean yourself and your family off refined sugar by reducing the sugar in the recipe you use greatly and add some stevia instead, this method did wonders when introducing my husband to Stevia – he hates all sweetener tastes.
The different forms of Stevia available call for different accuracy in measuring, the white powder for example is so efficient that the tiniest amount less than what you can gather on the tip of a knife has the power to sweeten a whole batch of cake batter – for some this amount may still be too strong.
If you are struggling to get the dosage right and find yourself wanting to give up – keep reminding yourself of the benefits and seek out help from an expert user.
Characteristics to take into account.
A very helpful characteristic of Stevia is that it is stable at very high temperatures – so don't hope for an over dosed batter mix to improve to a tasty cake through the baking process.
Further, it is important to know that Stevia behaves very differently than sugar – it does not have the same volume for starters, this needs to be taken into account when adapting recipes for use with Stevia.
You should also be conscious that Stevia has no caramelizing properties, which make some recipes unsuitable for adaption; but I am sure the wide variety of treats that you can actually make with it makes up for this.
In some circumstances it may be suitable to create a desired treat by using a combination of sugar/ honey and Stevia to achieve the desired effect.
I am still trying to create a recipe for short cake type biscuits since they rely greatly on the combination of sugar with its crystalline structure and butter – a huge challenge for an anti sugar and butter person. I will keep you posted on any advance in this area.
Something else you should know is that the Stevia sweetened batter mix also behaves differently, when mixing the eggs, butter and stevia – they don't cream like butter and sugar do, but when the dry ingredients are added it all comes together. I have adapted many recipes to use quark rather than butter with great success –it creams nicely with eggs and makes a soft moist texture depending on what cake consistency is required the batter may be creamy or thick and or dry.
Largely, the rule of thumb when adapting recipes is to slightly increase the amount of liquid like egg, water or milk called for in the recipe to make up for the lost volume of the missing sugar. The moistness of the batter or dough should resemble what you would expect the standard recipe mix to turn out like. Mind too many eggs can make the finished product tough, but they are useful in helping the cake to rise and when the egg white is beaten stiff and folded under a light airy biscuit texture can be achieved.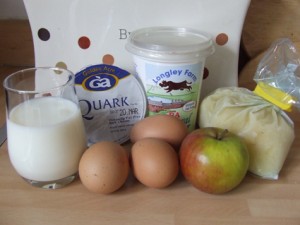 When looking at making a plain flavored sponge cake the slightly bitter nature of wheat flour is not as delicious – I help this problem by adding flavoring like rum-, almond-, vanilla extract or lemon peel. Replacing part of the flour with cocoa, nuts or using chestnut flour can give real height to a flavorsome cake eliminating the bitter taste. Why would you want a plain cake anyway, its flavor we want when enjoying food!
When baking with recipes exclusively using Stevia, it is helpful to use your sense of smell and touch to check readiness as the baked goods do not brown as well as sugar laden cakes.
If you use the natural green extract powder it may slightly alter the colour of the batter or food. I once received green powder by mail order that I had not asked for. After the initial disappointment I tried it in my porridge with allspice – and now it's all used up – so you see, it's about what you do with each of the different forms that make them work.
Some find that they are unable to make yeast based cakes sweetened with Stevia as the yeast requires the sugar to activate. I have made recipes with yeast before with various success – I will keep trying and am intending to have a go starting the yeast started with a teaspoon of sugar and then sweetening the rest of the dough with Stevia, that way the yeast bacteria should have a bit of food to get them working and then they just have to eat the carbohydrates in the flour instead.
About my approach when developing the recipes posted here.
Generally, it is not very complicated to bake with Stevia-sweet, I am quite an impatient cook and aim to keep things simple and quick when baking in regards to processes as well as to what ingredients I use.  By the time I decide to make a treat I really am already desperate to have it there and then…
It puts me off when recipes use too many ingredients that are not widely available and are not easily substituted, which is why I try to use standard baking ingredients wherever possible. You may find me trying a few unusual ingredients every now and then but I will always try to give a suggestion for substituting if an ingredient is a novelty and not easy to get hold of.
During my infant stages with Stevia sweetening, I thought it was necessary to buy baking books that specialize in utilizing Stevia, but since I am a visual person I found the image less books uninspiring and concentrated on trying to adapt my usual favorite recipes from the image laden baking books that I know by heart.
I hope you will enjoy browsing the recipes I have already posted letting yourself be enticed to try making them. I am keen to know how you get on- send me a picture and a couple of lines on your experience, maybe you discover any tricks that should be shared with other keen Stevia users…
So the main things to note: sweetness preference may vary– give it a chance – don't over dose and practice using this genius herbal sweetener to your advantage. Soon you will be developing your own recipes and hopefully share them with me.
Practice makes perfect –sweets!
MK xx