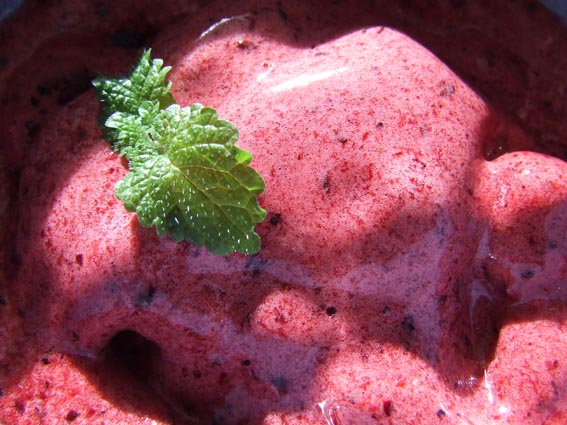 Super quick, creamy, refreshing summer dessert – makes a great alternative to ice cream, giving the melt in the mouth feeling.
With two ingredients, frozen berries and stevia, this is a great emergency dessert or treat when the sweet tooth is calling – a smooth, creamy, melting healthy low calorie dessert rich in vitamins and fiber.
After checking the descriptions for the two terms: Semifreddo & Sorbet I decided I'd like to call it semifreddo rather than sorbet, as it features a mousse like creamy texture rather than the watery gritty texture of sorbet.
Semifreddo is Italian, meaning "half cold", it is a description for semi-frozen desserts with a mousse like texture, which is usually produced by uniting two equal parts of ice cream and whipped cream.
Sorbet on the other hand is a frozen dessert made from sweetened water, flavoured with fruit (typically juice or puree).
I like using frozen berries for desserts, as it is easy to have them stocked in the freezer as a staple.
For extra sweetness and to take the edge of the acidity fo the berries, I use  stevia-sweet fluid form www.stevia-shop.co.uk, it's a convenient natural sweetener that gives delicious sweetness without adding calories, the easy flip top dropper lid allows easy dosing.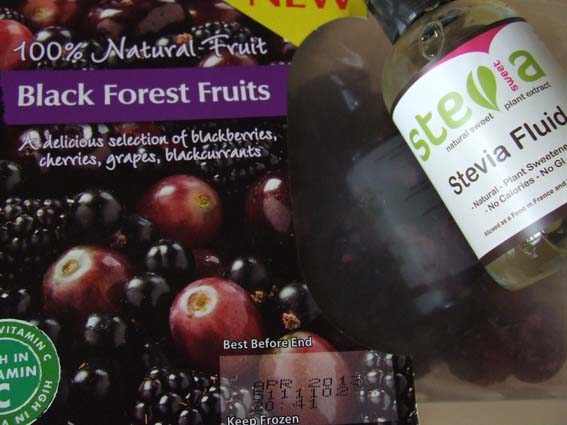 Makes: 4 portions
Prep time: 5min.
Re-freezing: optional.
You need:
• 500g frozen fruit mixed berries (I used black forest mix)
• 100ml hot water
• 3-7 drops of Stevia-sweet fluid
Note: getting the sweetness to the desired level is a matter of trial and error, the best thing is to start with a smaller amount of whatever Stevia you have on hand, it can be ready-use, liquid or tabs (need to be dissolved too), adding more is easier than diluting – you could end up with a huge amount of treat -Don't have any Stevia yet? – you can always use normal sweetener products until you are set up.
Instructions:
Boil some water.
Place part of the frozen fruit in a blender, pour hot water in.
Process with food processor or blender until creamy; add more fruit bit by bit to not freak out your machine with the rock solid berries.
Because berries can be a little sour at times, I sweeten the mousse while blending with stevia-sweet fluid, which is convenient and easy to dose.
Blend until you get a thick, mousse texture.
You can place the finished semifreddo in the freezer to firm it up a little or use it later.
Here's the calorie count.
One portion approx.  61kcals     (bonus: its high in Vitamin C and Fiber, sweetness comes only form fruit sugar and stevia.)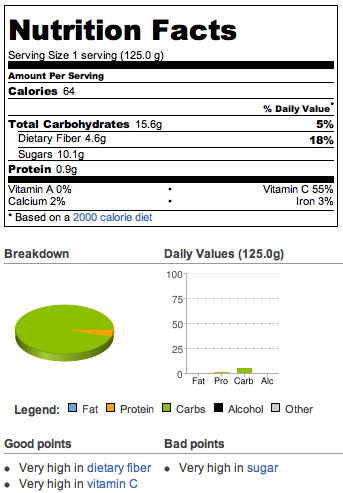 Tell me which summer desserts you are making when the sun comes out – share your recipe with us!
MK xx