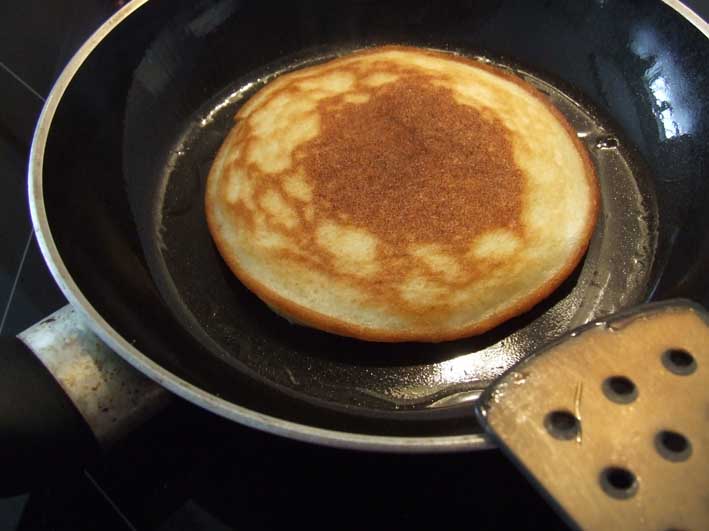 My alternative sweet breakfast or on the go lunch for everyone following a lower carb diet that can not face a savory paleo breakfast.
This recipe is an evolution from my previous pancakes, it has no dairy at all. These are very low carb, 6g Carbs with whole recipe, 1.2g per pancake. The pancakes are also very high in selenium which is great "because selenium can protect against the adverse effects of mercury toxicity"  as Chris Kresser discusses in depth in a recent podcast, it is also very important for healthy skin and gut health as disused in this post.
I usually actually do not have breakfast any more, I do the Bulletproof Butter Coffee with MCT oil and fast until 2pm to support my ketogenic diet approach.
After not having had pancakes for many weeks I had to revert back to them when I had a tummy bug and I kind of couldn't face veg or meat. I made these in the hope that they would not make me squeezey as well as slowing down my food transit times with the Coconut fibre content.
It did work and I now like to use them for lunch on the days where I teach afternoon fitness classes and found that my tummy did not do well with veg and salad, kept having tummy pain from my normal lunch menue so I had to try something different.
Yes I know in Paleo eating we are not supposed to rely on baked goods too much but it solves my problem and I think once a week is Ok.
Are you scared that you could over eat on these pancakes like on the wheat-version you used to have? Don't worry these are so filling and satisfying due to the coconut fibre and the coconut oil, you will feel very satiated after your portion.
Makes: 5 small 12cm pancakes
Prep time: 5 min
Cooking: 15 min
You need:
3 medium eggs
1/4 tsp baking powder
35g ground almonds/ almond flour
25g coconut flour
aprox. 50ml sparkling water
1tbsp/ 10g Coconut oil for frying
1-2  knife-tips Stevia-sweet 90% powder dissolved in 1 table spoons hot water
Note: getting the sweetness to the desired level is a matter of trial and error, the best thing is to start with a smaller amount of whatever Stevia you have on hand, it can be ready-use, liquid or tabs (need to be dissolved too), adding more is easier than diluting – you could end up with a huge amount of treat -Don't have any Stevia yet? – you can always use normal sweetener products until you are set up.
Crack eggs into a jug add baking powder, Stevia-sweet extract and sparkling water, mix with electric mixer.
Add the flours and mix with electric mixer until the batter is smooth and still a bit runny, the batter also  sets after a little while when the almond and to coconut fibres soak up the fluid.
Heat a small frying pan with coconut oil and fry individual pancakes. Alternatively you can use the batter to make gluten free waffels too.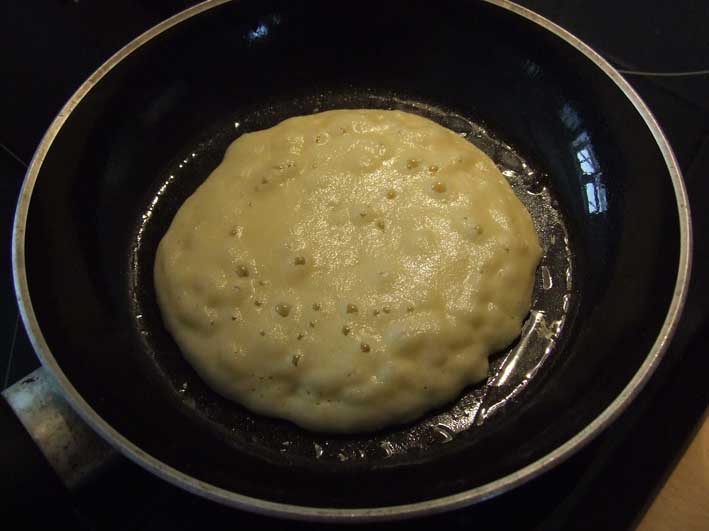 TIPS:
– you can use normal flour to make this recipe too although I do not recommend wheat and gluten any longer.
– you can use any flavouring to your own taste
– the pancakes also freeze well, so there is no reason to skip a breakfast anymore.
– or make a savoury spicy version over-baked with cheese as a snack or dinner
Here's the calorie count.
Full recipe 550 kcals, individual pancake 110 kcals.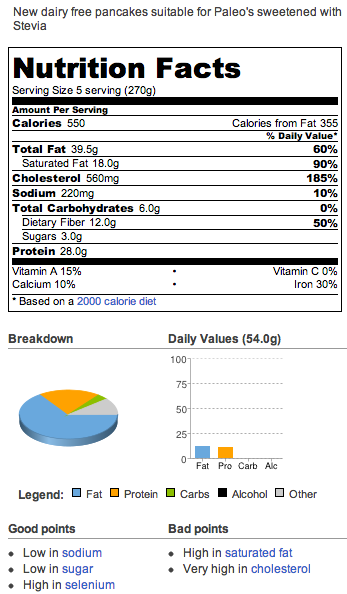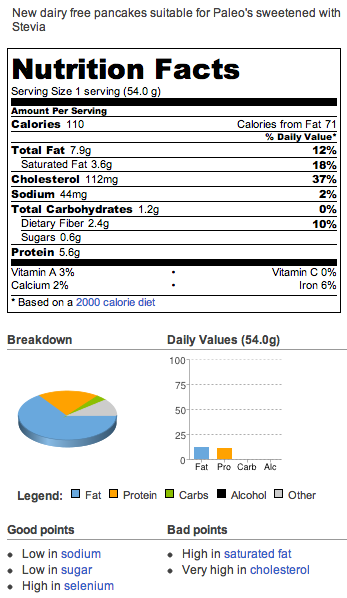 Have you got a favourite breakfast recipe you have had to evolve to fit in with your new diet requirements?
MK xx