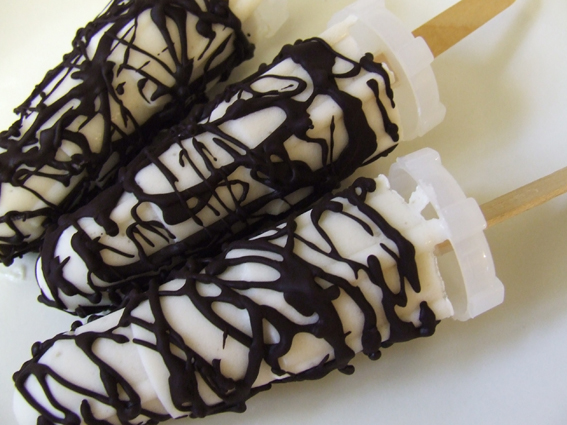 An ice cream a day keeps your longings way – stock your freezer with these yummy  smooth ice pops ready for next weekends summer weather.
Not just for kids. These sugar-free summer dessert treat banana ice pops refresh your guests at your 1st BBQ of the year – during the Easter holiday.
Transform your unwanted bananas into highly desirable ice cream pops.
Sometimes it takes a little shape shifting to make a fruit desirable again.
Now that the weather is getting warmer I am definitely back on a mission to have an ice cream a day; that way I never feel like I am deprived in any way.
Today, I re-stocked my freezer with these low fat, sugar free creamy banana ice-lollies that are sweetened with Stevia-sweet.
Once the main ice cream part is frozen I cover them in melted sugar free carob (chocolate replacement). I love the added crunch the frozen carob adds.
Because the pops are sweetened with Stevia, they satisfy my sweet tooth without leaving me wanting more in half an hour, that is thanks to stevia having no GI so it does not affect the blood sugar at all.
Low GI carbohydrates/ products produce only small fluctuations in our blood glucose and insulin levels. Focusing on low GI foods is the secret to long-term health, sustainable weight loss and the related benefits of reducing your risk of heart disease and diabetes.
If you don't like carob you can always use another chocolate that agrees with your diet requirements or use unsweetened chocolate and enhance it with Stevia-sweet fluid and maybe a little vanilla extract.
Makes: 6pcs/ ice-lollies.
Prep time: 10min.
Freezing: approx. 6 hours, but best overnight.
Cover in melted carob or chocolate: after fully frozen – after covering is set they can be returned back into freezer until serving.
You need:
• ice-lolly moulds (I have a set with 6 pops)
• 1pcs/ 85g Banana
• 1 medium Egg
• 250g Quark
• 100ml skimmed milk
• Approx. 10 drops of Stevia-sweet liquid
Note: getting the sweetness to the desired level is a matter of trial and error, the best thing is to start with a smaller amount of whatever Stevia you have on hand, it can be ready-use, liquid or tabs (need to be dissolved too), adding more is easier than diluting – you could end up with a huge amount of treat -Don't have any Stevia yet? – you can always use normal sweetener products until you are set up.
Tip: don't worry if you can get hold of Quark, you can use Natural fromage frais instead.
Instructions:
Peal and roughly chop the Banana.
Place in a blender to make Banana puree.
Separate the egg yolk from the egg white.
Whip egg white until to a soft peak/ nearly stiff.
Combine Banana puree, ½ of the Quark and milk to smooth texture. Sweeten with the Stevia-sweet liquid to taste.
Place egg yolk and ½ of the Quark into a bowl over hot water bath whisking until you get a thick, creamy texture.
Add the sweetened prepared Banana/ Quark mixture.
Whip the two mixtures together.
Now add the soft peak egg white and mix well.
Pour into ice pop moulds and stick in the pop stick.
Now they go in the freezer for several hours until fully frozen.
Decorating:
If you are looking to decorate them with melted carob covering, it's best to leave them over night to ensure they are definitely frozen.
Melt the carob buttons or chocolate, drizzle over the ice pop while turning. I used the drizzle method, as it requires less buttons/ chocolate.
For dunking to achieve an even covering you would need a lot of melted carob/ chocolate to be able to cover the whole ice-lolly evenly.
Here's the calorie count.
1 Popsicle approx. 66 kcal
What is your favourite fruit ice cream, or do you prefer the classic chocolate or vanilla versions?
MK xx