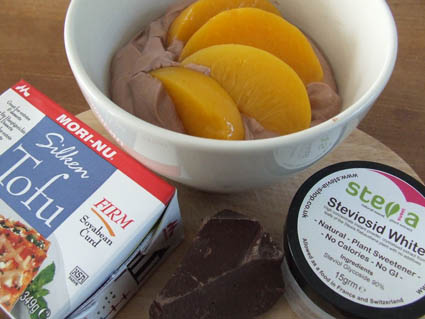 5 minute Silky Vegan Chocolaty dessert sweetened with natural zero calorie stevia sweetener.
I recently started to experiment with Tofu, and because I have a preference for sweet dishes I whipped up this luxurious cocoa orange cream.
I must admit I was a bit apprehensive how tofu would work in a sweet dish, until now I have only had TVP cubes and marinated & plain Tofu for savoury dishes.
It did work a treat, the Tofu has not really got a taste of its own so it's the perfect base for any dessert – watch this space, I am sure I'll discover more way of using the Silken Tofu for healthy sweet treats.
The texture was thick and creamy which resembled my favourite childhood dessert: Chocolate Pudding cream.
I am not a strict Vegetarian but I do like to keep meat to a minimum and enjoy having options and alternatives.
Last week I visited a friend that turned out to be Vegan, I thought that must be a little restrictive but when we had lunch it was not much different to what I usually have, I really enjoyed it.
The Silky Chocolate Orange Tofu Dessert's best selling point to me is the nutritional composition, tons of protein that keeps you full for longer with low GI index ranking.
The protein richness makes it the perfect post workout snack aiding the body to repair the damaged tissue. – I am officially hooked now.
Now, you know I am a lady of efficiency so the dessert is whipped up in no time, leaving you with more time to enjoy summer life.
The Silky Chocolate Dessert has no added sugar, but don't worry it can be as sweet as you like, the sweetness comes from the natural Stevia-sweet sweetener, allowing it to be enjoyed by anyone who is watching their energy/ calorie intake or suffers from diabetes as it does not affect blood sugar levels at all.
I'd like to dedicate this recipe to all my Vegetarian and Vegan friends, there seem to be more and more of them.

Makes approx. 2 portions
Prep time: 5min

You need:
349g Mori-nu Tofu, Silken Firm (on pack as sold)
40g  100% Chocolate (unsweetened)
2 drops – Orange flavouring (or other flavouring as desired)

1-2 knife-tips Stevia-sweet 90% powder

dissolved in 

1 table spoons hot water
Note: getting the sweetness to the desired level is a matter of trial and error, the best thing is to start with a smaller amount of whatever Stevia you have on hand, it can be ready-use, liquid or tabs (need to be dissolved too), adding more is easier than diluting – you could end up with a huge amount of treat -Don't have any Stevia yet? – you can always use normal sweetener products until you are set up.
Instructions:
Melt the 100% chocolate in the microwave – be careful not to over heat it as it will go horribly grainy.
Add all ingredients into a blender. Press go, keep blending until all is smooth.
Fill into serving glasses, decorate with fruit, I used peach slices, serve immediately or refrigerate for later.
Tip: Adding the Stevia-sweet 90% into the warmed up water will help make sure its dissolved ok and add into dry ingredients.
If you don't have 100% Chocolate, you can get a very similar result  by using 3 table spoons of unsweetened Cocoa powder, it's even quicker and saves some more calories. (see difference in nutritional composition below.
Here's the nutritional information:
Silky Chocolate Orange Tofu Dessert Nutrition:
Silky unsweetened Cocoa Orange Tofu Dessert: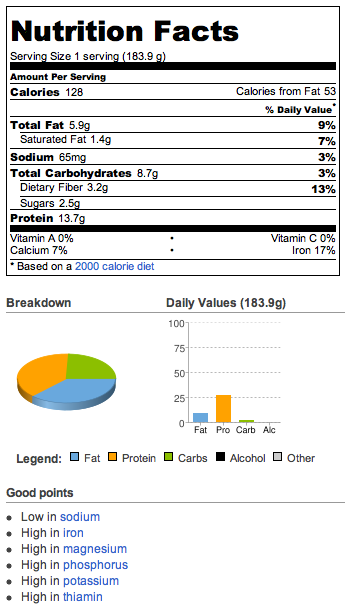 Tuck in and enjoy your delicious Vegan dessert. I'd love to hear about your favourite vegan or tofu recipes, get in touch and share your passion.
MK xx