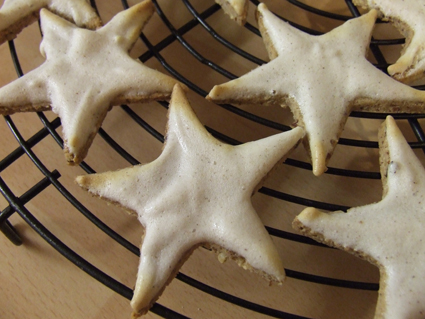 Since Christmas time is approaching fast and the German style Christmas markets are calling here a lovely recipe for German style Zimtsterne/ Cinnamon Star Cookies which gluten and sugar free.
To get a seasonal feeling we need to make cookies and fill the house with seasonal smells…
Makes 40 small sized cookies. 
Prep time: 10 min
Cookie cutting & Decorating: 30-60 min
Baking time: 10 min at 180 degree Celsius, 2min 2x for glaze setting.
Cooling time: 15-30min
For the cookie dough you need:
2 Egg whites
150g ground Hazelnuts
110g Almond flour (ground Almonds, preferably un-blanched but those are hard to get hold of)
2 tsp Cinnamon
1-2  knife-tips Stevia-sweet 90% powder dissolved in 1 table spoons hot water
MCT oil or coconut oil other un-flavoured oil for stopping dough sticking to the rolling pin
Note: getting the sweetness to the desired level is a matter of trial and error, the best thing is to start with a smaller amount of whatever Stevia you have on hand, it can be ready-use, liquid or tabs (need to be dissolved too), adding more is easier than diluting – you could end up with a huge amount of treat -Don't have any Stevia yet? – you can always use normal sweetener products until you are set up.
Mix ground nuts and cinnamon.
Add egg whites and stevia in a bowl and beat with electric mixer, just until it is combined a bit, don't beat it stiff.
Now mix dry ingredients and the egg/ stevia mix together by hand until it is not sticky anymore. If necessary add a little more ground nuts to make the dough workable.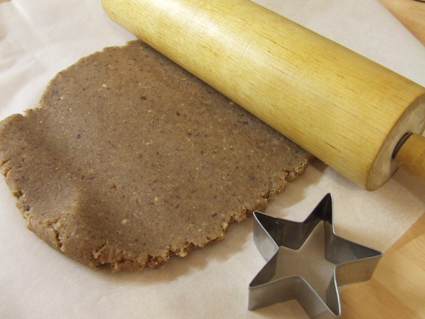 Tips for handling the dough:
Use a grease proof paper to roll the dough out on.
Coat the rolling pin with MCT oil or coconut oil to stop the dough sticking to it.
Regularly wash the cookie cutter to get good result on all cookies.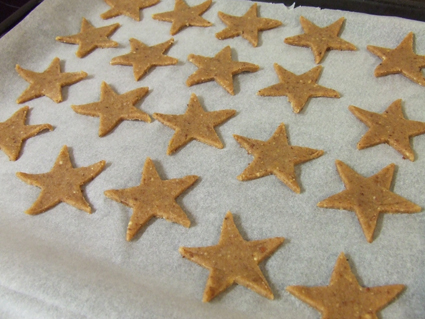 The cookies do not get bigger so they can be laid out closely on a greaseproof paper lined baking tray.
Bake the cookies for about 10min at 180 degree Celsius.
When they are done, place on cooling rack until they can be handled again for the egg glazing.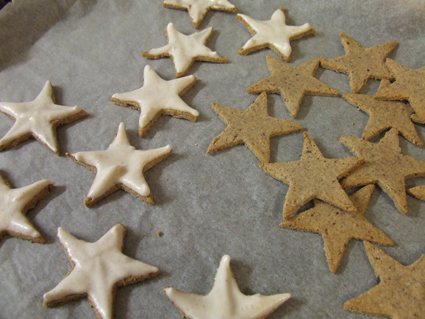 For the "egg white cinnamon glaze" you need:
1 Egg white
1/4 tsp Cinnamon
Beat the Stevia-sweet Baking Granules 1:1 with the egg white and the cinnamon to a foamy  consistency.
Use a small spoon to put the egg white glaze on each biscuit.
They now need to go back into the oven to set the glaze.
Bake the glazed cookies again for about 2min at 180 degree Celsius, turn tray around and repeat for even colouring.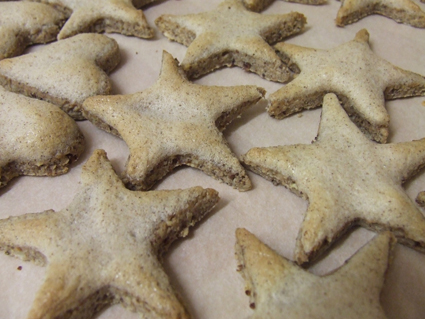 Leave cookies to cool, they will set over night which make the egg white glaze much more fragile than on the day of making them.
Who would want to wait to eat them though?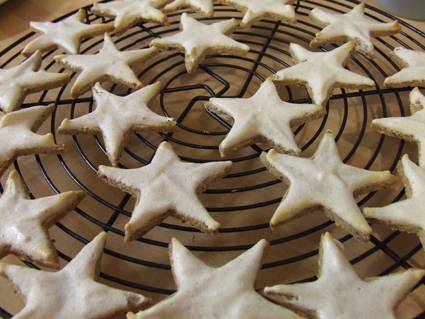 You can also use the dough to make any kind of Thumb print cookies, I filled them with dark chocolate.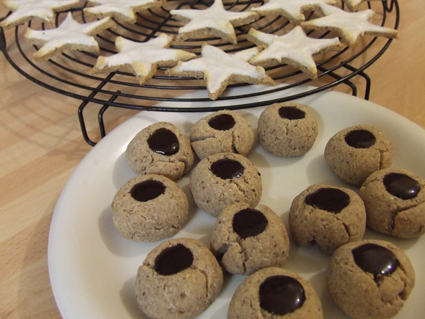 Stevia-sweet Christmast recipes are featured in: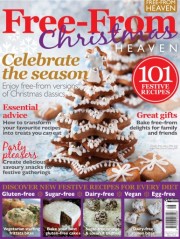 "Free-From Christmas Heaven Magazine" 2014
-Cinnamon stars
-Marzipan Kartoffeln
-Lebkuchen biscuits
-Ferrero Rocher style ice cream balls
Which christmas cookie is your favourite?
Enjoy
MK