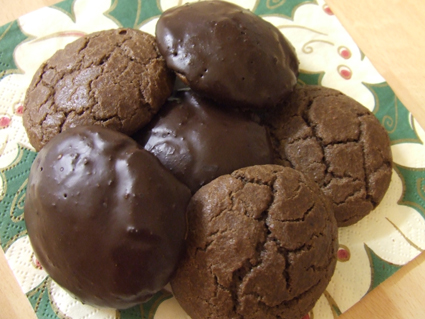 German Lebkuchen is similar to gingerbread.
Lebkuchen belong to christmas like the tree, they are spicy traditional biscuits which are usually soft and covered in chocolate or icing glaze.
Sometimes they contain chopped nuts or candied citrus fruit.
Here is the sugar free replacement version I have worked out last christmas.
Prep time: 10 min
Baking: 12 min at 180 degree celsius
Cooling: 30min
For the biscuits you need:
120g ground Almond flour (ground Almonds, preferably un-blanched but those are hard to get hold of)
75g Coconut oil
4 medium eggs
11g Rum
20g cocoa powder unsweetened
2 drops Vanilla aroma or use Upgraded ground Vanilla
1/4 tsp. Baking powder
1tsp

Lebukuchen seasoning

–

see instructions below

or you can use just Cinnamon and Allspice.
1  knife-tip Stevia-sweet 90% powder dissolved in 1 tbsp. hot water
Note: getting the sweetness to the desired level is a matter of trial and error, the best thing is to start with a smaller amount of whatever Stevia you have on hand, it can be ready-use, liquid or tabs (need to be dissolved too), adding more is easier than diluting – you could end up with a huge amount of treat -Don't have any Stevia yet? – you can always use normal sweetener products until you are set up.
Lebkuchen seasoning:
Ingredients:
2 T. ground cinnamon

2 tsp. ground cloves

1/2 tsp. ground allspice

1/4 tsp. ground nutmeg

1/2 tsp. ground coriander

1/2 tsp. ground cardamom

1/2 tsp. ground ginger

1/2 tsp. ground anise seed

1/2 tsp. ground star anise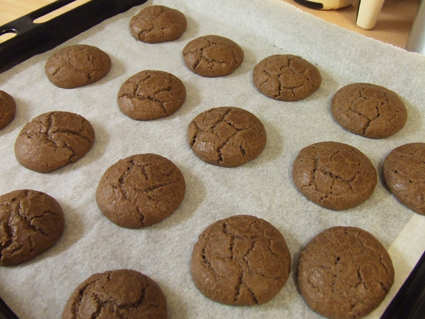 To make the batter:
Mix eggs with spices and dissolved stevia until well combined.
Add the melted Coconut oil.
Add baking powder.
Add Ground Almonds.
Mix well.
Use a piping bag to pipe even sized  biscuits onto a greaseproof paper lined oven tray.
Bake in pre-heated oven for 12min on 180 degree celsius, it's always good to turn the tray around at half way time point.
Place on a cooling rack until they are cooled off.
Enjoy them as they are or cover them in melted 90% Lindt chocolate.
Keep the cool (fridge) and eat within 3-4 days.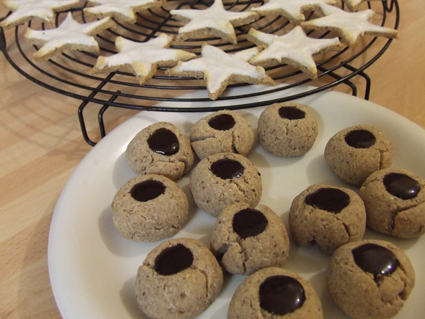 Stevia-sweet Christmast recipes are featured in: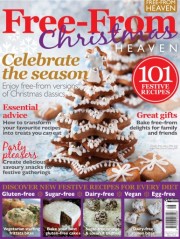 "Free-From Christmas Heaven Magazine" 2014
-Cinnamon stars
-Marzipan Kartoffeln
-Lebkuchen biscuits
-Ferrero Rocher style ice cream balls
Keep you eye open for the sugar free Domino stone recipe both this and the previous Marzipan mass recipe are needed to make them.
Enjoy the seasonal baking and making.
MK